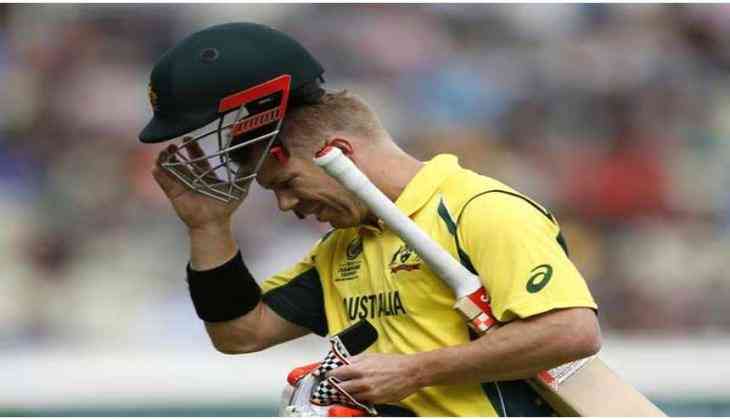 Australian opener David Warner, who has always been outspoken to keep a 20-year revenue-sharing arrangement in place, has once again issued a verbal volley against Cricket Australia for wrongly blaming players for not resolving the bitter pay dispute between the country's cricket board and Australian Cricketers' Association (ACA).
On Thursday, CA chief executive James Sutherland had called on the ACA to enter into a period of intense negotiations over coming days in order to resolve the ongoing pay dispute.
Imposing a deadline on the stalled Memorandum of Understanding (MoU) negotiations, Sutherland said the matter would be referred to independent arbitration if the pay dispute with the players remains unresolved by early next week, with CA also pledging to abide by the umpires' decision.
Sutherland, while expressing his concern about the delay, had said the ongoing pay dispute between CA and ACA had reached the point where next month's proposed Test tour to Bangladesh, a subsequent ODI series in India and the upcoming Ashes series against England are potentially at risk.
Hitting back over the same, the ACA said that it was CA who should be blamed for the crisis before adding that the country's cricket board had "lost the players" through its hardball tactics.
The ACA compared arbitration to an "adversarial process more akin to a courtroom".
"This dispute has arisen from Cricket Australia's attempts to, without making the case, end a successful 20-year partnership with players. Cricket Australia has lost the players and most of the game's stakeholders in the process," Sport24 quoted ACA as saying.
Warner also could not stop himself and fired back at the cricket board.
"This Baggy Green (cap) means the world to me. Myself and all the other players, female and male, want to get out there and play. We offered $24 million of our money to grassroots as a peace plan. It was ignored. We asked for mediation twice before and it was rejected. Now CA says there is a crisis," he wrote on Instagram.
"The players are unemployed and some are hurting financially but continue to train. Administrators all still being paid. How is it our fault no deal is done?" he added.
Players, having central contracts and state players without multi-year deals, were left unemployed after the deadline for a new MoU was not brokered by June 30.
More than 200 leading cricketers are affected by the dispute between CA and the ACA.
-ANI