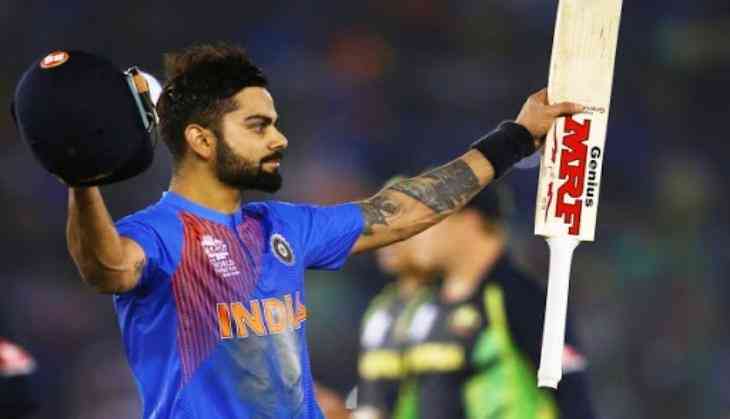 Indian skipper Virat Kohli is a well-known name today, every single cricket fan in the world knows who Virat Kohli is. You are not a cricket fan, if you don't know the 'run machine' of India. The cricketer turns 29 today. Virat was born on 5 November 1988.
Virat Kohli is scripting history with his bat every day, the cricketer had broken many records and he is the verge of breaking much more. Virat Kohli has become the sole Indian player to make it in the world's 100 highest paid sportsman in the latest Forbes list. Not only that but Virat Kohli is also ahead of football ace Lionel Messi by 1 million is brand value, in the list revealed by Business magazine Forbes. Virat is placed at the seventh spot in the ESPN's list of world's most famous sportsperson.
Run-machine Virat Kohli is a renowned name now and you won't be able to believe that someone lost his job just because he selected this talented player in the team.
Virat Kohli was not always an International star, there was a time when he was a fresher and the chairman of the BCCI selection committee, at that time, Dilip Vengsarkar was removed from his post for selecting Virat Kohli. Even though in the same year Virat Kohli had led U-19 team in winning World Cup in 2008.
Virat Kohli made his debut in the International cricket in the year 2008 against Sri Lanka, the chairman of BCCI selection committee (Dilip Vengsarker) picked him, it was once again Dilip who hand-picked the RCB skipper for the Australian tour. After picking Virat Kohli in the team Mr Vengsarkar was removed from his spot. Dilip had lost its job because he picks yet the fans of cricket will be happy to know that he made such a brilliant choice that day.
In a book named Democracy's XI, the popular Television Journalist Rajdeep Sardesai have revealed, that N. Srinivasan's first choice was Tamil Nadu lad S. Badrinath, but Vengsarkar just wanted Virat Kohli in Indian squad no matter what. Even after N. Srinivasan took this matter to the then BCCI president Sharad Pawar, Vengsarkar still picked Virat Kohli for India team.
The former chairman of the BCCI selection committee Vengsarkar was quoted as saying that,
"When N. Srinivasan, the board treasurer and controller of Tamil Nadu cricket, found out I had dropped Badrinath for Virat, he was livid and went and complained to the board president Sharad Pawar. The next day I was removed as chairman of selectors but fortunately, they couldn't change my decision to pick Virat".
Virat Kohli in its initial year in International cricket was struggling with form and had scored only two fifties that was another reason, other than that his flamboyance image was another thing that the selector does not wanted him in Indian squad.