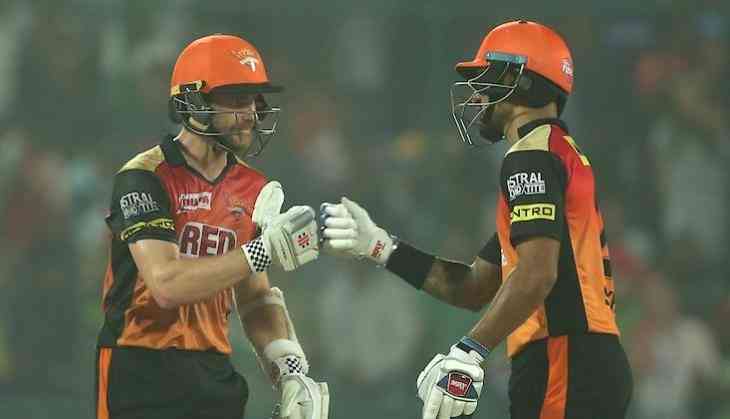 The 42nd match of the Indian Premier League of the 11 season between Kane Willaimson's Sunrisers Hyderabad and Shreyas Iyer showcase why Hyderabad is the best team of the season. Iyer's men came to bat first and set a target of 187 runs in front of Williamson's Sunrisers. Well, Delhi gave a target of 187 runs to Hyderabad and that they chased it like a boss. Hyderabad defeated Delhi by 9 wickets and proved why the team deserve to be on the top of the standard list. Shikhar Dhawan became the man of the match.
Delhi's young player Rishab Pant played a tremendous inning and made 128 runs from just 63 balls fetch the orange cap on his shining head. Well, no batsmen stood for long and played a disappointing batsmanship. SRH's Shakib Al Hasan took 2 wickets of DD, while Bhuvneshwar took a single one.
"I think it was a brilliant total to get up to where we did. The way Rishabh carried on was extremely commendable. The pitch got better and better. It played a huge role. I think we didn't get that many opportunities. They played really good cricket. I think we didn't deserve to win this. It's going to be really important as a young side to keep togetherness. We will try to win our remaining games and boost morale. These games are a great learning process for playing for India in the future," Iyer said after the match.
Also read: KKR v MI, IPL 2018: Here's why Twitterati asks, 'is it IPL or drama' after watching the match between two team
Sunrisers Hyderabad's star batsmen Shikhar Dhawan played marvellous unbeaten 92 in 50 balls and skipper Williamson played 83 runs not out in just 53 balls. Where Dhawan hit 9 fours and 4 sixes, Williamson hit 8 fours and 2 sixes. DD's Hershel Patel took the one wickets of SRH.
Here's the complete scoreboard:
Delhi Daredevils Innings (Run Rate: 9.35)
Batsmen
Runs
Balls
SR
4s
6s
Prithvi Shaw
c Shikhar Dhawan b Shakib Al Hasan
9
11
81.81
1
0
Jason Roy
c Shreevats Goswami b Shakib Al Hasan
11
13
84.61
2
0
Shreyas Iyer
run out (Shreevats Goswami/Sandeep Sharma)
3
8
37.50
0
0
Rishabh Pant
NOT OUT
128
63
203.17
15
7
Harshal Patel
run out (Shreevats Goswami)
24
17
141.17
0
2
Glenn Maxwell
c Alex Hales b Bhuvneshwar Kumar
9
8
112.50
1
0
Vijay Shankar
NOT OUT
0
0
0.00
0
0
Extras
(nb 0, w 1, b 0, lb 2, pen 0)
3
Total
(5 wickets; 20 overs)
187
Bowler
O
R
W
Econ
Dots
Bhuvneshwar Kumar
4
51
1
12.75
11
Sandeep Sharma
4
24
0
6.00
11
Shakib Al Hasan
4
27
2
6.75
8
Siddarth Kaul
4
48
0
12.00
5
Rashid Khan
4
35
0
8.75
7
Sunrisers Hyderabad Innings (Run Rate: 10.14)
Batsmen
Runs
Balls
SR
4s
6s
Alex Hales
lbw Harshal Patel
14
10
140.00
3
0
Shikhar Dhawan
NOT OUT
92
50
184.00
9
4
Kane Williamson
NOT OUT
83
53
156.60
8
2
Extras
(nb 0, w 1, b 0, lb 1, pen 0)
2
Total
(1 wickets; 18.5 overs)
191
Bowler
O
R
W
Econ
Dots
Trent Boult
3.5
43
0
11.21
5
Harshal Patel
4
32
1
8.00
9
Shahbaz Nadeem
2
22
0
11.00
2
Liam Plunkett
4
41
0
10.25
3
Amit Mishra
3
29
0
9.66
3
Vijay Shankar
1
14
0
14.00
1
Glenn Maxwell
1
9
0
9.00
1