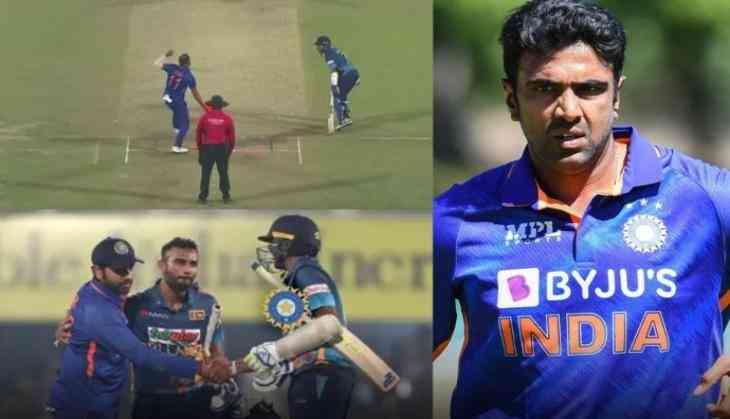 The 1st ODI between India and Sri Lanka, however, also saw a rather unusual incident taking place towards the end of the match. Pacer Mohammed Shami, who bowled the over, ran Sri Lankan skipper Dasun Shanaka out at the non-striker's end on 98, however, India captain Rohit Sharma later withdrew the appeal. Shanaka eventually scored a hundred and Rohit later stated that the decision was made as Shanaka was just two runs away from the century.
Indian spinner Ravichandran Ashwin has now opened up in detail about the incident. Insisting that the dismissal is "legitimate," Ashwin said that nobody checks with the captain when an appeal is made for a caught-behind or lbw.
"Of course, Shami's run out. When Shanaka was on 98, Shami ran him out in the non-striker's end, and he appealed too. Rohit withdrew that appeal. So many people tweeted about that immediately. I am going to keep repeating only one thing, guys. The game situation is immaterial. That is a legitimate form of dismissal," Ashwin said.
"And if you ask an lbw appeal, or a caught-behind appeal, nobody will check with the captain on whether they are sure with the appeal like a Sarath Kumar or an Amitabh Bachchan in Kaun Banega Crorepati.
"They will give him out if the bowler appeals and that is the end of it. See, even if one fielder appeals, it is the duty of the umpire to declare a player out if he is out," Ashwin added.
Furthermore, the 36 years old gave another example from the batter's point of view, saying that the captain of the batting team doesn't ask his player to continue to bat if the latter has walked off.
"I find it very surprising to have so many taboos surrounding this mode of dismissal. But the entire dismissal is regarding what the bowler does, right? The right of making that dismissal or making that appeal or making that decision lies with the bowler, right?" said Ashwin.
"In so many games, a batter has nicked and walked without waiting for the umpire's decision. At that time, the batting team captain won't come and ask, "With whose permission did you walk like that? Did you forget the team's cause? Go back and continue playing."
"So, these different treatments for bowlers and batters have been taking place for so many years now."
Also Read: 'Players can't even imagine, but Virat Kohli has..': Ex Pakistan cricketer's special praise for star batsman