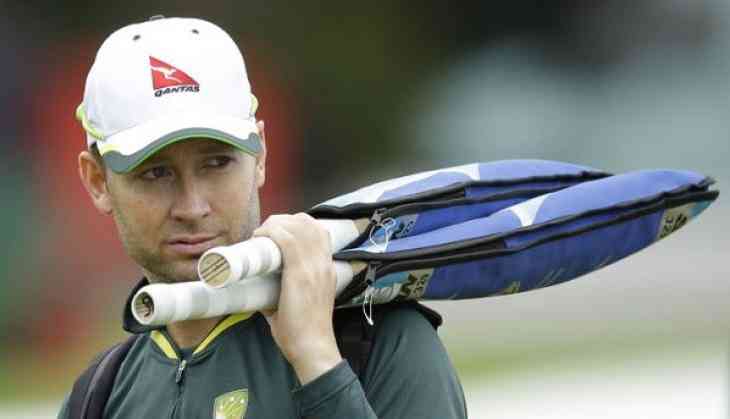 Former Australia skipper Michael Clarke has urged the national cricketers to engage in an arbitration process with Cricket Australia in their ongoing pay dispute.
CA chief executive James Sutherland had earlier called on the Australian Cricketers' Association (ACA) to enter into a period of intense negotiations over coming days in order to resolve the ongoing pay dispute between the two governing bodies in toto.
Imposing a deadline on the stalled Memorandum of Understanding (MoU) negotiations, Sutherland said that the matter would be referred to independent arbitration if the pay dispute with the players remains unresolved by early next week, with CA also pledging to abide by the umpires' decision.
While expressing his concern about the delay, he also said the ongoing pay dispute had reached the point where next month's proposed Test tour to Bangladesh, a subsequent ODI series in India and the upcoming Ashes series against England are potentially at risk.
"As a (former) player, I'm saying if a deal's not done by Monday afternoon allow it go to arbitration because we need this finalised," cricket.com.au quoted Clarke as saying.
"I believe this is definitely going to arbitration, and I think the ACA would be silly to say no to it. The players can't say no, the players have got to say yes because they've got to play," he added.
The former skipper further asserted that the Australian men's cricket team cannot afford to miss one game of cricket if they want to beat England in the Ashes.
"We need to go to Bangladesh (next month), we need to go to India for the ODIs (in October), and then we need to play our best cricket to beat England in Australia, which I believe we will if we've played some cricket together as a team," said Clarke.
"The players are not CEO of a business or general manager of a business. That's not their responsibility. This needs to be done between CA and the players' association, and the players need to do what (they) know best and that's to play this game we love," he added.
If a peace deal cannot be brokered between CA and ACA as their chiefs James Sutherland and Nicholson meet again over the weekend, and it does go down to arbitration, Clarke tweeted that the "players will win."
Players, having central contracts and state players without multi-year deals, were left unemployed after the deadline for a new MoU was not brokered by June 30.
Once arbitration was agreed to, the 230 cricketers currently unemployed and unpaid would immediately be able to sign interim contracts under the terms of the previous MoU (men's players) or the new agreement that was detailed by CA last March (for women).
ACA had earlier rejected the new pay offer from the game's governing body, saying the proposal will be a win for cricket administrators but a loss for the game.
In March, CA made an offer, proposing that the average pay of Australia's international women's players would rise from $A79,000 to $A179,000, while the average remuneration of state cricketers would more than double to $A52,000.
Under CA's proposal, only male international players would have the chance to share in any surplus revenue, while other domestic male players and women at both domestic and international level would have to settle for fixed amounts which would not fluctuate according to the game's income.
However, the ACA pointed out a series of concerns with the proposal, saying that it "disrespects the value of domestic cricketers and the role they play in Australian cricket".
The major reason behind the ACA's opposition is CA's proposal to scrap a shared revenue model for player payments, which has been in place for nearly 20 years.
-ANI