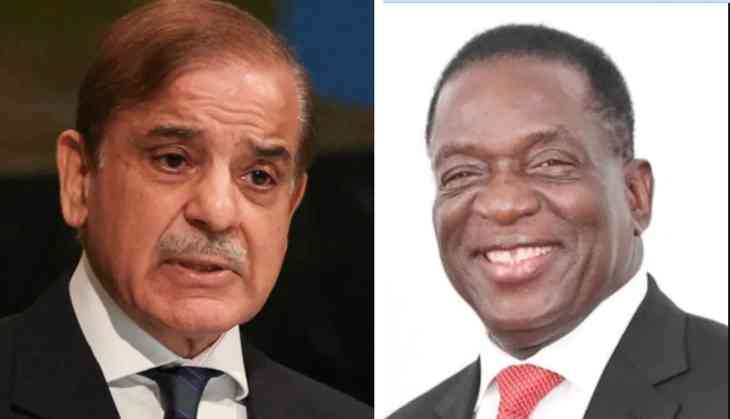 Pakistan PM and Zimbabwe President engage in Twitter war.
Those overlooking the 'Mr Bean' discourse ahead of the T20 World Cup Super 12 Group 2 clash Pakistan and Zimbabwe were in for an eye opener after the Craig Ervine-led side shocked Babar Azam's men by 1 run at the Sydney Cricket Ground on Thursday.
At first, Zimbabwe's President, Emmerson Dambudzo Mnangagwa, took a dig at Pakistan by saying "Next time, send the real Mr Bean" and then, few hours later, Pakistan Prime Minister, Shehbaz Sharif, responded to it by saying "have a habit of bouncing back."
"We may not have the real Mr Bean, but we have real cricketing spirit .. and we Pakistanis have a funny habit of bouncing back:) Mr President: Congratulations. Your team played really well today," the Pak PM wrote along with a clap emoji.
Zimbabwe President Emmerson Dambudzo Mnangagwa, on Thursday, congratulated the team following their win against Pakistan, however, he raised many eyebrows with his mention of Mr Bean. "What a win for Zimbabwe! Congratulations to the Chevrons. Next time, send the real Mr Bean...#PakvsZim," he wrote.
Zimbabwe President took a jibe at Pakistan's comedian Asif Muhammad, a lookalike of Mr Bean. Asif had travelled to Zimbabwe in 2016 posing as the actual Mr Bean. Pakistan Cricket Board uploaded a post on its official Twitter handle of the team's players' practising before the Zimbabwe match, to which a Twitter user, named Ngugi Chasura responded by saying, "As Zimbabweans, we won't forgive you...you once gave us that Fraud Pak Bean instead of Mr Bean Rowan ..we will settle the matter tomorrow just pray the rains will save you...#ZIMVSPAK."
The tweet brought about a lot of reactions on the internet and even earned the Pakistan-Zimbabwe match the tag of 'Mr Bean derby.'
Also Read: Shoaib Akhtar after Pakistan's shocking loss against Zimbabwe in T20 WC: 'Average mindset, average results'