Indian Cricket team skipper Virat Kohli issued a voter's slip in Sahajanwa sub-division of Gorakhpur, which is going for bypoll election on 11 March 2018 (Sunday).
The Election Commission ordered to look into the matter to sub-division of Gorakhpur. However, Deputy chief electoral officer, Ratnesh Singh, has assured to take the action against the matter after getting the report from the city's administration.
As per the voter slip, Kohli's name has been registered under the Sahajanwa Assembly segment. He also gets the voter number on the list as 822.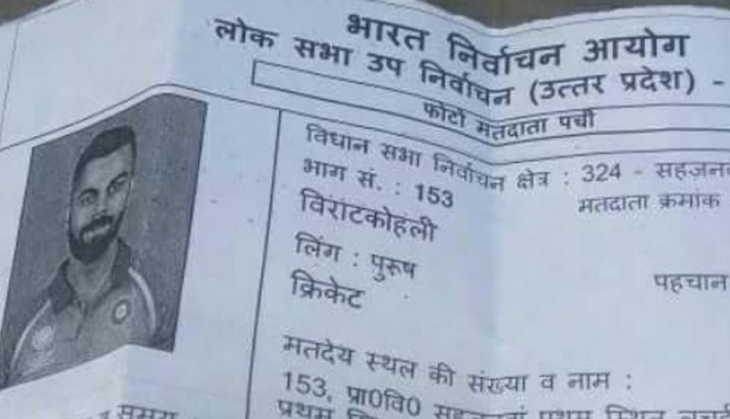 Well, it's a puzzling bypoll goof up that had mentioned the name of the cricketer on the voter's list. However, Virat is a resident of Delhi and the mistake was pointed out by booth-level officer Sunita Chaubey around five days ago.
The bypolls in Gorakhpur and Phulpur will be conducted on 11 March, while the counting of votes will be done on 14 March. The bypolls were considered to be held after CM Yogi Adityanath and Deputy CM Keshav Prasad Maurya had vacated the seats, after the Uttar Pradesh Assembly Elections.
The members who are in competition for the election from BJP are Kaushalendra Singh Patel from Phulpur and Upendra Dutt Shukla from Gorakhpur while members from SP are Pravin Nishad and Nagendra Pratap Singh respectively. Congress candidate is Sureetha Kareem from Gorakhpur and also fielded Manish Mishra from Phulpur. There are total 10 candidates in the battle from Gorakhpur for the election and 22 from Phulpur.
As per the reports of Election Commission, this time there will be 19.61 lakh voters in Phulpur Parliamentary Constituency. For Gorakhpur parliamentary, there are 19.49 lakh voters only.
Also read: The audio call recording of Mohammed Shami and his wife about a Pakistani girl is shocking; know more about their conversation