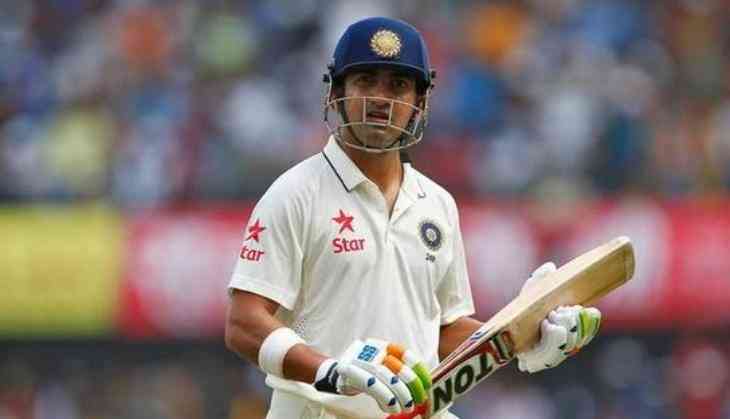 No punishment for Gambhir as Justice Sen overturns four-match ban
Veteran Indian opener Gautam Gambhir was on Saturday handed a four-match suspension from the first-class cricket for allegedly abusing Delhi team coach KP Bhaskar in March.
Bhaskar and Gambhir were involved in a heated argument during Delhi's last Vijay Hazare Trophy match in Cuttack. Following the campaign, Bhaskar filed a complaint with Delhi and District Cricket Association (DDCA) administrator Justice (Retd) Vikramjit Sen alleging 'abusive' and 'inappropriate' behaviour on the part of Gambhir.
However, Justice Sen has decided to overturn the punishment for a period of two years ending on 30 March 2019, on condition that Gambhir accept this order and does not commit any similar transgressions during this period.
An enquiry committee, which was constituted by Justice Sen and comprised chairman Madan Lal, Rajendra R Rathore and advocate Soni Singh, had found Gambhir guilty and described the batsman's behaviour as `highly inappropriate` and of `serious nature`.
"Mr. Gambhir's actions towards Mr. Pillai ( KP Bhaskar) with premeditated intent to humiliate the coach on 06 March 2017 were highly inappropriate and of serious nature. It is recommended that such inappropriate behaviour requires being penalised not only in a proportionate manner but in a manner that has a deterrent effect so that it is not repeated and such issues are taken seriously by all team members," the committee stated.
"The reprieve means Gambhir could now play for two full cricket seasons without facing sanctions. I gave a personal hearing to Mr. Gambhir on 11th June 2017. I thought it prudent not to take a decision during the continuance of the Indian Premier League, for obvious reasons. In the prevailing circumstances, I consider it appropriate and expedient, while accepting the Report & Recommendations of the Committee, to suspend the punishment for a period of two years ending on 30th March 2019 conditional on Mr. Gautam Gambhir accepting this order and provided he does not commit any similar transgressions," Justice Sen said.
The committee also suggested that there is a need to set-up a re-dressal system for players, while at the same time disciplinary rules need to be established to deter players from indiscipline.
"The Committee also recommends, in view of the significant grievances raised by Mr. Gambhir during the hearing, which seem to have been given vent to in an inappropriate manner on account of lack of a proper grievance re-dressal system for the team members, that a grievance re-dressal system within the team is urgently required. It is also recommended that disciplinary action rules and mechanism of imposing penalty are required to be formulated to inculcate discipline in the team members and for predictability and deterrence, where players know that an act of indiscipline would have serious repercussions and are therefore deterred from committing them," the statement said.
-ANI