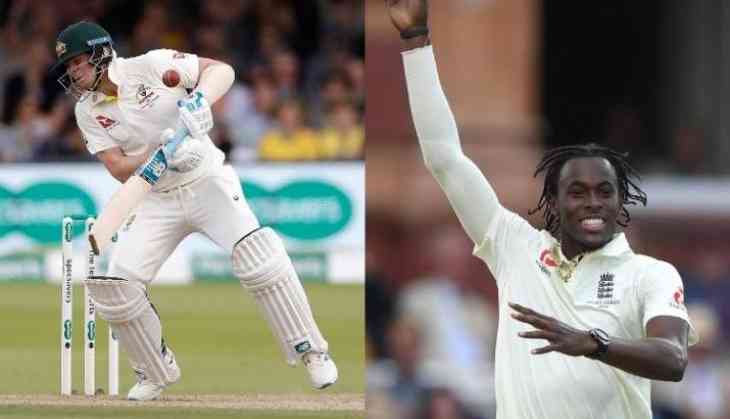 Jofra Archer's brutal bouncer to Steve Smith at the Lord's is still making rounds for varied reasons. Steve Smith got hit around his neck and was ruled out of the match because of concussion following which Marnus Labuschagne came in as a substitute. Steve Smith further went on to sidestep the third Ashes Test at Headingley, which Australia lost by one wicket, all thanks to Ben Stokes superb knock.
AlsoRead:http://www.catchnews.com/cricket-news/ishant-sharma-all-set-to-surpass-kapil-dev-s-long-standing-record-171021.html
It wasn't just Steve Smith, but Jofra Archer also whacked Marnus Labuschagne a few times on his helmet. Since then his lethal bouncers have been the talking point, mainly because of his effortless approach. He is also being viewed as a deadly prospect as he was able to destroy the Australian batting line up.
Not long ago, Steve Smith came out and stated that the West Indies born player is yet to take his wicket. "There's been a bit of talk that he has the wood over me but he hasn't actually got me out," Smith mentioned. The Aussie batter is set to return for a tour match versus Derbyshire on Thursday.
AlsoRead:http://www.catchnews.com/cricket-news/west-indies-pacer-retires-at-85-after-taking-over-7000-wickets-in-60-year-long-career-171063.html
http://www.catchnews.com/cricket-news/after-hasan-ali-is-glenn-maxwell-all-set-to-tie-knot-with-indian-girl-171007.html
Following Steve Smith's comment, Jofra Archer also came out and responded to his remark. The pacer went on to say that he wished to bowl at Smith after he returned to bat at Lord's but he couldn't. Archer further went on to say that there is enough time to get him out.
"Well, I can't get him out if he wasn't there. I did want to bowl at him when he came back out at Lord's but he was out before I even got to come back on. But there'll be more than ample time to get him out," Archer was quoted as saying in Daily Mail.
AlsoRead:http://www.catchnews.com/cricket-news/watch-rohit-sharma-features-in-action-pact-tv-ad-fans-say-best-commercial-so-far-171048.html
http://www.catchnews.com/cricket-news/gautam-gambhir-slams-shahid-afridi-over-kashmir-tweet-says-has-refused-to-mature-171031.html
Steve Smith amassed 92 runs before being dismissed by Chris Woakes. Before that, he went under a concussion test. Meanwhile, Jofra Archer praised Steve Smith and termed him as a world class batsman.
"At the end of the day I'm not saying I won't get him out but if we don't get him out there are 10 other people we can get out and if he's stranded on 40 that's not helping his team too much to be honest. We all know he's a world-class batter and has the right temperament for Test cricket but he can't do it all himself," Archer added.