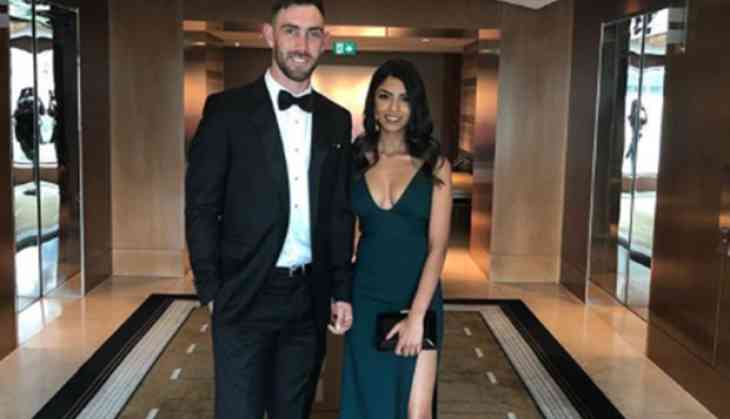 Australia's power hitter Glen Maxwell is reportedly dating an Indian origin women, based in Melbourne.
Vini Raman, as per her Instagram info, is a pharmacist based in Melbourne and has been in a relationship with Glen Maxwell for quite sometime now, as is apparent from some of the couple's photographs shared on her handle.
AlsoRead:http://www.catchnews.com/cricket-news/ms-dhoni-unlikely-for-t20-series-against-south-africa-as-selectors-looks-to-continue-with-rishabh-pant-170969.html
Glen Mexwell, too has shared some picture of both of them.
After Pakistan's Hasan Ali tied knot with an Indian women Samia Arzoo, social media has been buzzing concerning Maxwell's future plan.
Samia Arzoo, who hails from Haryana has been working with Emirates airlines as a flight engineer, She got married to Pakistan cricketer Hasan Ali at the Atlantis Palm Hotel in Dubai just a week ago. The couple first met through a mutual friend.
Glen Maxwell and Vini Raman have been in a relation for over two years now, but so far there has been no signs that the couple is ready to get married. Ever since news of Maxwell dating Vini surfaced, the question on everyone's mind is whether Maxwell will follow some of his fellow cricketers and marry an Indian girl.
If Glen Maxwell and Vini decides to get married, he will not be the first Australian cricketer to do so. Former Australian cricketer Shaun Tait tied knot with Mashoom Singha in 2014 after meeting at an IPL party and dating for a year
Likewise, Pakistan's Shoaib Malik married an Indian tennis ace Sania Mirza in 2010 and the couple conceived a baby boy last year.
AlsoRead:http://www.catchnews.com/cricket-news/twitterati-slams-icc-for-referring-ben-stokes-as-greatest-cricketer-of-all-time-over-sachin-tendulkar-170940.html
Sri Lanka's sipnner Muttiah Muralitharan also tied knot with an Indian woman named Madhimalar Ramamurthy from chennai in 2005.
So is marriage in the offing for Glen Maxwell and Vani Raman? Only time will tell.