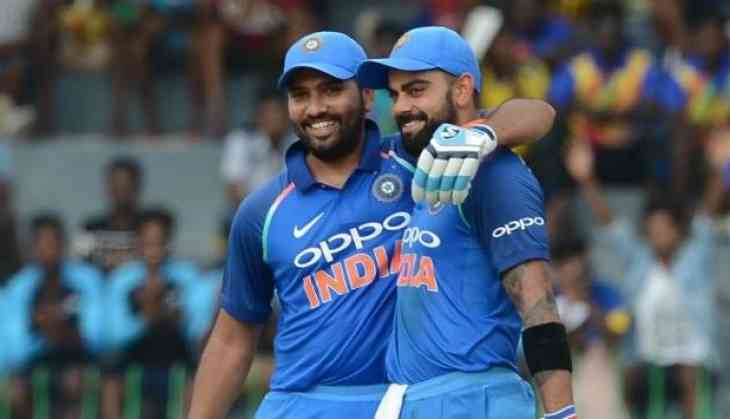 Indian skipper Virat Kohli and his deputy Rohit Sharma are all set to battle for supremacy in the shortest format of the game when India face West Indies in the first T20I match in Hyderabad later this evening. Both the players are enmeshed in a contention to become the most supreme force in the format.
However, the two batsman are going to embark on another battle in the forthcoming matches against the Windies as both the players have an oppurtunity to conclude the calender year as the leading run scorer across all formats.
Currently, the Indian skipper is leading the table with 2,183 runs with six matches to go in this year, Rohit Sharma, who has 2,090 have a shot to outstrip Kohli. Pakistan's Babar Azam is third in the list with 1,820 runs. If Virat Kohli finishes the year at the top of the list, it will be the fourth consecutive time that he will finish the year as the top run getter in all formats of the game.
In 2016, Virat Kohli concluded as the highest run getter with 2,595 runs, followed by 2,818 and 2,735 runs in 2017 and 2018 respectively. Since the emergence of T20s, Kohli is the olny cricketer to have completed a hat-trick of most runs scored.
Highest run-getters in T20Is:
2539 in 93 innings: Rohit Sharma (IND)
2450 in 67 innings: Virat Kohli (IND)
2436 in 80 innings: Martin Guptill (NZ)
Rohit Sharma and Virat Kohli take up the joint top spot for most 50 plus scores in T20Is. While Rohit has knocked four hundreds and 18 fifties, Kohli has knocked 22 half centuries to sit at the helm.
Most 50 + scores in T20Is:
22 (100/4, 50/18): Rohit Sharma (IND)
22 (100/0, 50/22): Virat Kohli (IND)
17 (100/2, 50/15): Martin Guptill (NZ)
Also Read: Sourav Ganguly gives advice to under fire Rishabh Pant ahead of West Indies series