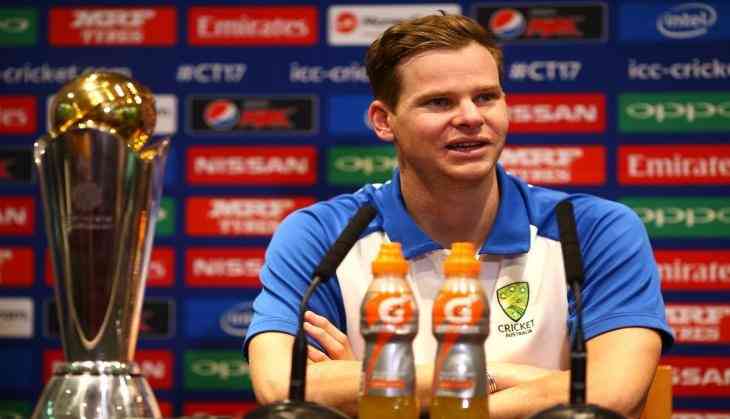 Australia team captain Steve Smith (Twitter)
Wary of the threat posed by Kuldeep Yadav, Australian captain Steve Smith today said the Indian left-arm wrist spinner is difficult to pick and his side has put in extra effort at the nets to prepare for him.
Kuldeep took four wickets on his Test debut against Australia on a pace-friendly Dharamsala track earlier this year. He is expected to play a crucial role in the ODI series series against the same team, starting tomorrow.
The visitors have got a similar type of bowler -- KK Jiyas -- at the nets to be ready for him. Jiyas is a former IPL teammate of Australian batsman Travis Head -- the franchise being Delhi Daredevils.
"He is a guy Sri (team consultant Sridharan Sriram) has organised to come down and bowl. They have got Kuldeep Yadav in their squad and he is likely to play. There is a chance to train against someone like that. There aren't too many in the world," Smith said ahead of the opening one-dayer.
"A few of the guys played against him in the IPL and he is a good young talent and can be difficult to pick at times.
He is someone who you have to watch a little bit closely.
Hopefully we can put him under pressure early in his spell and try and take him for as many as we can," he said.
There is talk that the series could turn out to be a run feast, but Smith said he would wait to take a look at the pitches before assuming anything.
"We saw that the last time we came here in 2013 it was a run-fest where 350 was around par. It's difficult to say.
Every ground is going to be different. I think it's about summing things up quickly at every ground. I couldn't tell you if it is going to be a run fest. It depends on the pitches," he said.
Smith has been a key member of the batting unit and has been hugely consistent since taking over as captain. In 41 matches at the helm in ODIs, he has 1,740 runs at an average of 51.18 with five hundreds and 10 fifties.
Asked if a lot depended on him, he said, "I think it's important for someone in the top four to go on and make a big score. I think we have the guys to do that. It's important in any country. We saw that the last time we came here in 2013 it was a run-fest where 350 was around par."
The team is blessed with a number of all-rounders, but the captain said the line-up would depend on the conditions.
"We have got a spinning all-rounder, we've got all- rounders that take pace off the ball and things like that. We have got a few different options but we will go in with what we think is best for the conditions.
"We're not going to name our team today. We're going to have a look again tomorrow and see what we think is the best (XI). There is a bit of weather around, might be a bit of rain around tomorrow as well. Gives us a chance to have a look at that and then we will be able to name our XI for tomorrow," he said.
Despite India missing opener Shikhar Dhawan as he sought a break to attend to his ailing wife, Smith said the hosts had a strong top six or seven.
"Yeah, I think Shikhar has obviously been playing well for India for the last year or so at the top of the order.
Obviously it is tough for them. Hope everything is okay with him.
"He has gone back home to Australia. I think they still have got a very strong batting line-up whether KL Rahul opens or Ajinkya Rahane does. I am not sure but we are ready for both. They have a strong top-six or seven," Smith said.
He also said Travis Head had been earmarked to bat at number four, insisting that the absence of Finch didn't change things.
"Nothing really changes. I'll tell you Travis will probably bat at four. I won't give too much away other than that. There's a good chance he'll be filling the No. 4 spot," the Aussie skipper said.
About Virat Kohli running away in the ODI centuries race and his take on the Indians' scoring big tons, Smith said, "I'm not sure. I think India play a lot more ODI cricket than we do. I'm not sure how many games Virat has played. He is a very good player.
"I am not worried about personal accolades or anything like that. I am here to try and win a series. The Indian team has a very good top seven and all guys are capable of scoring big runs. Our bowlers have to be on the top of their game to keep them quiet this series.
On the significance of the series leading up to the World Cup in England in 2019, Smith said, "We have about 30 ODI games before the World Cup. For us it is about trying to find the right group of players to fill all slots."
"Conditions are obviously slightly different to what they will be in England. But I think it is a good opportunity to put their names up there and hopefully win some games for Australia.
-PTI