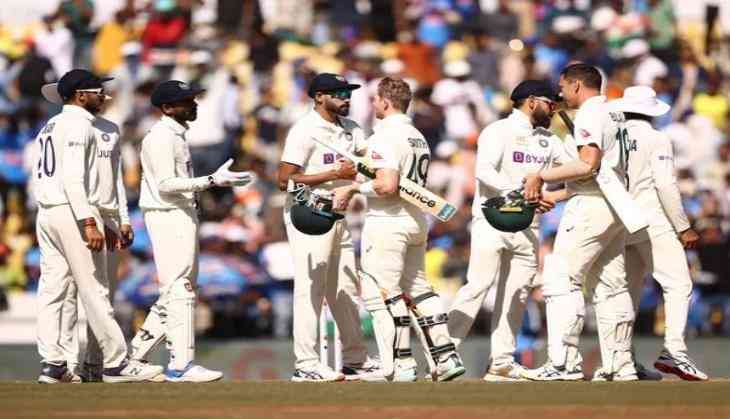 As the race to the ICC World Test Championship Final at The Oval gathers pace, India claimed a significant innings victory over Australia on Saturday to strengthen their claim for a spot in the Ultimate Test on 7 June. As two years of intense competition approaches its conclusion in the weeks to come, the longest format continues to create unrivalled drama, and the opening Test of the Border-Gavaskar Trophy leaves the door open for a dramatic climax.
With the top two teams in the ICC World Test Championship standings securing a place in June's Final, the victory in Nagpur sees Rohit Sharma's men widen the gap between themselves and the chasing nations with a percentage of 61.67. Consequently, Australia's defeat sees their tally drop to 70.83 per cent, however, they remain at the top of the table.
As a result of India's win, the number of teams that can mathematically qualify for the World Test Championship Final now becomes four. England and the West Indies drop out of contention, no longer able to reach the percentage required to break into the top two.
Among the two other remaining contenders besides Australia and India, Sri Lanka are the next-placed team in the standings at 53.33 per cent, and they have their sights firmly set on their series in New Zealand next month, where they will need to win both encounters to stand a chance of featuring in June's contest.
South Africa sits in fourth, yet their 48.72 per cent sees them needing not only a whitewash victory over the visiting West Indies, but favourable results elsewhere to give them any hope of taking to the field on June 7.
Attention now turns to the next fixture in the World Test Championship calendar, the second India-Australia Test where there is still everything to play for. Another victory for India would see them all but ensure their qualification, while Australia only needs to avoid defeat to confirm their place in the Ultimate Test at The Oval on June 7.
Remaining ICC World Test Championship Fixtures
India v Australia (2nd Test) - Delhi, India, February 17-21South Africa v West Indies (1st Test) - Centurion, South Africa, February 28-March 4India v Australia (3rd Test) - Dharamsala, India, March 1-5South Africa v West Indies (2nd Test) - Johannesburg, South Africa, March 8-12New Zealand v Sri Lanka (1st Test) - Christchurch, New Zealand, March 9-13India v Australia (4th Test) - Ahmedabad, India, March 9-13New Zealand v Sri Lanka (2nd Test) - Wellington, New Zealand, March 17-21.
(ANI)
Also Read: IND vs AUS: Ravi Shastri shuts all controversies on Siraj-Jadeja incident; reveals truth