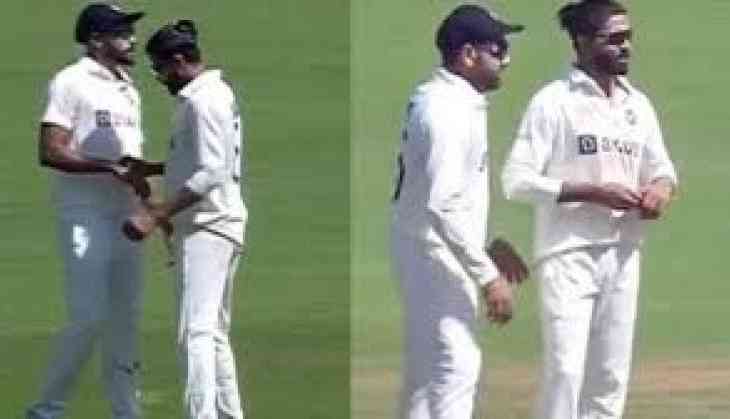 Ravi Shastri shuts all controversies on Siraj-Jadeja incident.
India all-rounder Ravindra Jadeja made an outstanding comeback to cricket after five months of injury layoff as he scalped his 11th five-wicket haul as the hosts bundled out Australia for just 177 on Day 1 of the opening Test of the Border-Gavaskar series.
However, social media went buzzing when an Australian media highlighted a 'questionable' video of Mohammed Siraj and Ravindra Jadeja during the match with former England captain Michael Vaughan criticising India's intentions. Former India head coach Ravi Shastri however shut all the controversies around it as he divulged the truth behind the incident.
The incident took place after the visitors were reduced to 120 for five. Jadeja, by then, already had taken three wickets, having dismissed Marnus Labuschagne, Matt Renshaw and Steven Smith. The all-rounder was seen taking a substance off the Siraj's palm with his right hand and rubbed it on his index finger of his bowling hand. At no point in the video, was Jadeja seen applying the substance on the ball.
Australian media outlet FOX Cricket, however, highlighted the incident on Twitter with the caption: "A debate has erupted after vision of a questionable moment was spotted during the first innings of the first Test between Australia and India."
While former Australia Test captain Tim Paine dubbed it, "Interesting", Vaughan reacted to the tweet saying, "What is it he is putting on his spinning finger? Never ever seen this".
At the begining of Day 2 of the 1st Test, Star Sports highlighted Vaughan's reaction on Fox Cricket's tweet, however, Ravi Shastri gave a blunt response before revealing that Jadeja was applying an ointment on his finger.
"I have not heard much about it. I have asked two questions. Was there any problem with the Australian team? The answer was 'no'. Did the match referee come into play? He wad told about it, he cleared everything, matter ends. Why are we discussing anybody else? And to be honest, ointment as a reliever, the match referee would have been told if there was any decision to be taken or action, he would have taken it. By the way, on this track, you don't need anything, the ball will turn," he said.
Also Read: IND vs AUS, 1st Test: Rohit's 85 put hosts in driver's seat against visitors, India trail by 26 runs (Day 2, Lunch)