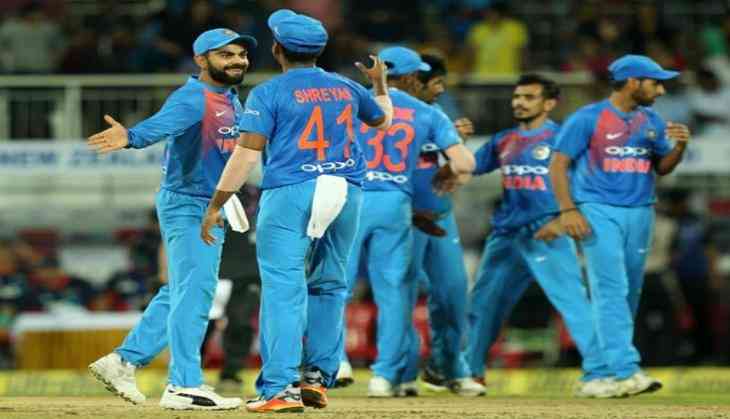 India pipped New Zealand by six runs in the rain-hit third T20I to claim the series 2-1, on 7 November, here.
Incessant rains earlier played a spoilsport as the match was reduced to 8 overs per innings. The revised rules said that the Powerplay would be of two overs, and four bowlers could bowl a maximum of two overs.
The hosts had managed to put on board 67 for five.
India Skipper, after winning the game, said, "We are happy to get a game. This crowd deserved to get some action after having to made wait so patiently. Ever since the ODIs started, 67 turned out to be good total in the end. We thought if you take the run rate up it won't be easy to get the big shots away. Today was another case of guys pulling themselves up."
New Zealand had earlier won the toss and elected to bowl first, after which the Indian batting order crumbled like a deck of cards.
Kane Williamson, after winning the toss, said, "We will bowl first. Not sure about the surface, it's an 8-over game, but at the end of the day, the better team will win. It's a decider, we have to show plenty of intensity with the ball."
India Skipper Virat Kohli said, "We would have bowled first, looks like a damp wicket, there was no sun and there's some moisture on the surface. We will have to put up a big score and then restrict them. The crowd has waited patiently and deserve to see a game."
Team India had won the first game at Delhi's Feroz Shah Kotla Stadium by 53 runs, before the Kiwis equalled the series with a 40-run victory at Rajkot.
-ANI