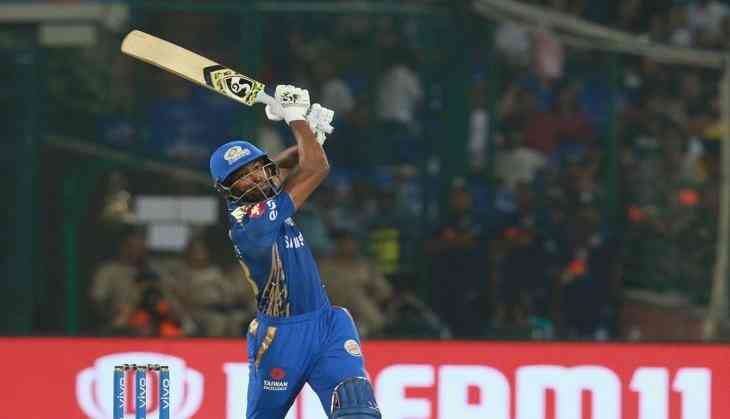 Hardik Pandya has now perfected the helicopter shot, Mumbai Indians calls it 'Hardikcopter' shot. The signature shot of Mahendra Singh Dhoni, which Hardik started practicing in the nets before the Indian Premier League started and has played the shot in other games too. Hardik Pandya recently got selected for India's World Cup squad.
Hardik Pandya played the helicopter shot in the second ball of the 20th over. Kagiso Rabada came in to ball when Mumbai Indians were 152-4 in 19 overs. Rabada bowled a full-length ball which Hardik picked up towards cow corner, between long-on and deep mid-wicket position.
Kagiso Rabada came in strong in the next ball as he dismissed Hardik Pandya for 15-ball 32. Mumbai Indians finished the innings at 168-5 in 20 overs.
April 19, 2019
Delhi Capitals came in to bat in the second innings, Shikhar Dhawan and Prithvi Shaw were looking good. But Dhawan was immediately dismissed after the power-play ended and lost his wicket to Rahul Chahar. Prithvi Shaw was dismissed by Rahul Chahar in the 8th over for 20 runs.
All-rounders Axar Patel and Chris Morris were the only other batsmen to score a double digit score. Rest all of them were dismissed for a single digit score. Mumbai Indians defeated Delhi Capitals by 40 runs.
Mumbai Indians now sit at number two on the points table, having won six out of the nine matches they have played so far. Mumbai Indians now have 12 points to their name, two points behind their arch rival Chennai Super Kings.
Also read: England announces World Cup squad; includes player who last played ODI 10-years ago