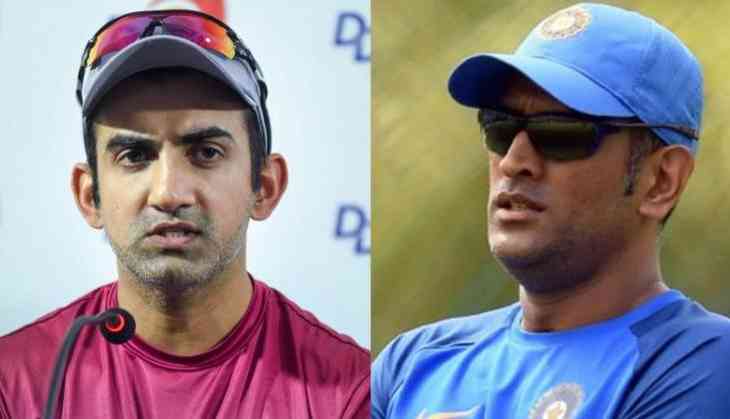 Mahendra Singh Dhoni's cool and serene presence behind the stumps has been perpetual for the Indian cricket team over the years. His assured presence as a headman, even after leaving captaincy, has been a solacing factor for the bowling attack over the past decade. MS Dhoni has rarely let emotion prevail over him on the field. This has led to him being put down as the finest captain of all time, the only captain to have won all major ICC trophies.
However, those who have under him have seen more then what we have seen on television. Dhoni when all's said and done is a human being and there have been instances when emotions have pulled through.
After Indian fast-bowler Mohammed Shami and former cricketer Irfan Pathan gave an account of incidents when captain cool was not really cool, former cricketer turned politician Gautam Gambhir also recollected a few case in point when MS Dhoni couldn't rein his sentiments.
Gautam Gambhir, who shared the dressing room with MS Dhoni for many years, let out a few instances during the T20I World Cup 2007 and in the IPL when Dhoni lost his cool.
"People say that they have never seen him lose his cool, but I have on a couple of times. It was during the 2007 World Cup and in other World Cups when we haven't done well. He's human and he's bound to react as well. It's absolutely fair enough to do that. Even at CSK, if there's a misfield or if someone has dropped a catch. Yes, he's cool, he's probably much cooler than the rest of the other captains. Much cooler than me for sure!" Gambhir said.
Gautam Gambhir was one of the crucial players in Indian team led by Dhoni, Gambhir played important roles in the T20I World Cup 2007 and the ICC World Cup 2011. he would square up against MSD in the IPL every time the two heavyweights Kolkata Knight Riders and Chennai Super Kings came face to face.
Also Read: Yuvraj Singh opens up about his bitter stint at Kings XI Punjab