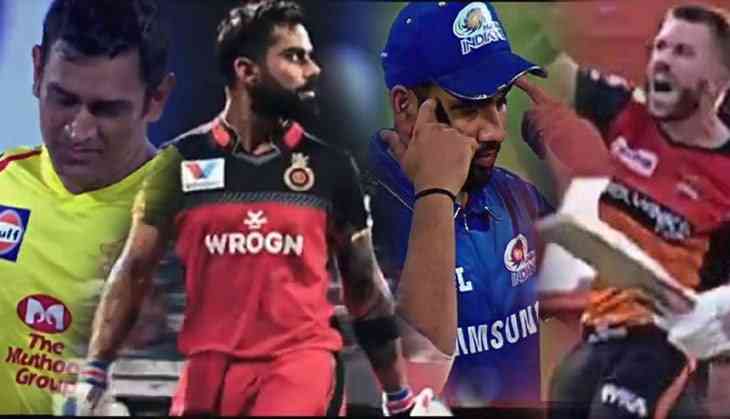 Sunrisers Hyderabad and Australian opener David Warner revealed his all-time Indian Premier League XI side. Talking to commentator Harsha Bhogle for Crickbuzz, the Australian gave a list of players whom he would like in his all time IPL XI side. However, many big names including Yuvraj Singh, Kieron Pollard and Lasith Maliga failed to make it to the list.
The south paw's former Aussie teammate Shane Watson, who smashed the match-winning ton in the IPL 2018 final for Chennai Super Kings, also missed the cut.
For the opening pair, Warner named himself along with Mumbai Indians skipper Rohit Sharma. Shockingly, he didn't choose his SRH teammate Jonny Bairstow for the spot, along with whom, he played some brilliant innings in 2019 edition.
David Warner opted for the Indian skipper Virat Kohli at the no.3 spot, while CSK's Suresh Raina was selected to bat at no.4 position. The Aussie then picked all-rounder Hardik Pandya and Glenn Maxwell for fifth and sixth spot, while the three time IPL winner MS Dhoni made it as the no.7th batsman in the team.
In the bowling department, Warner went for his Australia teammate Mitchell Starc, along with Indian paceman Jasprit Bumrah and former Indian pacer Ashish Nehra. For the lone-spinner spot, the 33-year-old named either Yuzvendra Chahal or KKR's Kuldeep Yadav.
Simultaneously, David Warner also pointed out similarities between him and Virat Kohli. "If you're in that contest, and if I'm going at him for example, you're thinking, 'Alright, I'm going to score more runs than him, I'm going to take a quick single on him'. "You are trying to better that person in that game. That's where the passion comes from," Warner said
Also Read: Kamran Akmal opens up about Asia Cup clash with Gautam Gambhir
Also Read: Hardik Pandya opens up about controversial 'Koffee With Karan' episode that led to his suspension