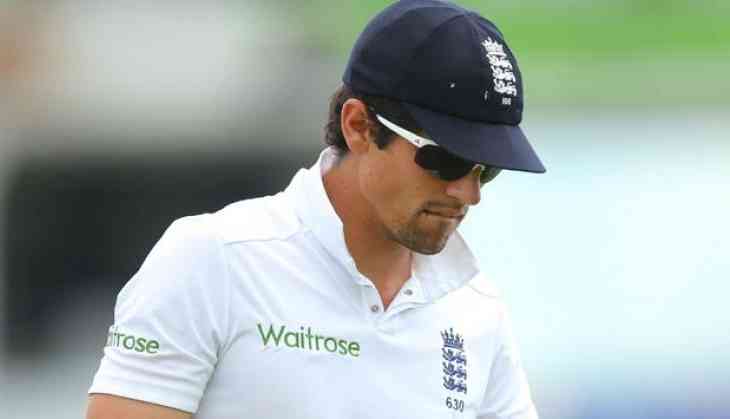 England opener Alastair Cook ended his international career on a high note as he finished off by breaking into top ten of the International Cricket Council (ICC) Test player ranking.
The 33-year-old achieved the feat on the back of an impressive performance in the last Test of the recently concluded five-match series against India.
The left-hander's scores of 71 and 147 made him the fifth man in history to notch a century in his first and last Test matches. The innings also helped his side win by 118 runs to complete a 4-1 win in the series.
Cook had achieved a career-high ranking of second in September 2011 after he had scored a Test best 294 against India at Edgbaston. This was the same year when Cook won the prestigious ICC Test Cricketer of the Year award.
The former England captain has ended an impressive career with the third-best ranking for a retiring England batsman after Wally Hammond (fifth) and Geoff Boycott (eighth).
India skipper Virat Kohli, on the other hand, has successfully retained his number one spot in ICC Test ranking. He had started the series 27 points behind Australia's Steve Smith and finished one point ahead of his closest rival.
Kohli had first reached the top of the world after the Edgbaston Test and then reclaimed the top spot after the Trent Bridge Test. He will now defend his number-one ranking in the two-Test home series against the West Indies, which starts on October 4.
Indian batsmen Lokesh Rahul and Rishabh Pant have also made big gains in the latest rankings update. While Rahul has advanced 16 places to 19th position after his knock of 149, Pant has moved up 63 places to 111th position after his 114 in only his third Test match.
Ravindra Jadeja's unbeaten 86 in the first innings has helped him gain 12 places to reach 58th among batsmen while he has also moved up one place in the all-rounder's list to second position.
In other movements amongst the batsmen, captain Joe Root has moved up one place to fourth position after a fine knock of 125 in the second innings while other England batsmen to gain in the rankings include Jos Buttler (up nine places to 23rd) and Moeen Ali (up five places to 43rd).
In ICC Test bowlers' ranking list, England fast bowler James Anderson started and finished the series in number-one ranking. After the Lord's Test, Anderson reached a career-high 903 points. Anderson started the series with 892 points and finished just one point shy of the coveted 900-point mark.
Other bowlers to make an upward movement after The Oval Test include Ben Stokes (up one place to 27th), Adil Rashid (up six places to 44th) and Sam Curran (up four places to 51st) all advancing after taking three wickets each.
Meanwhile, England have advanced to fourth position in the ICC Test Team Rankings. They have gained eight points to move above New Zealand to 105 points and just one point behind South Africa and Australia, who are both on 106 points with the former marginally ahead on decimal points.
India remain the top side in the format but 1-4 result in the recently-concluded series has seen them lose 10 points and slip to 115 points.
(ANI)