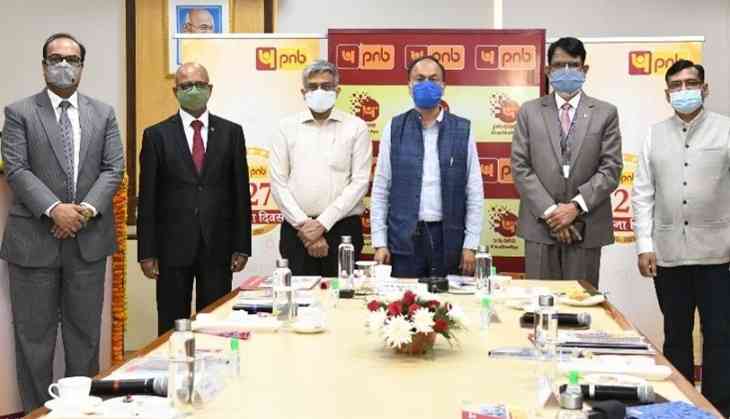 PNB celebrates its 12th Foundation Day.
Punjab National Bank (PNB) has celebrated its 127th foundation and launched a unique pilot project [email protected] outlet on Monday.
According to the press release, the model offers a "Banking-on-the-Go" service where every transaction undertaken by a bank branch will be initiated and authorized by the customers themselves.
Under this digitial initiative, PNB customers will avail various loans and more, without visiting a branch or help from the bank employee. The bank would roll out [email protected] across 165 identified locations across India.
[email protected] outlets will be loaded with five Kiosks i.e. ATM, Bunch Note Acceptor, Card Issuance Kiosk, Account Opening Kiosk, and internet-enabled Kiosk.
Amid the COVID-19 pandemic, [email protected] will enable the customers to avail all banking services under one roof.
The first such multi-functional outlet was inaugurated by Sh. Debasish Panda, IAS, Secretary, and Sh. Pankaj Jain, IAS, Additional Secretary, Department of Financial Services at the Central Secretariat Metro Station, New Delhi on Monday.
On the occasion of foundation day, the bank announced various digital initiatives such as the instant opening of an online saving account via video-KYC, insta pre-approved loan, insta demat account, and insurance facility through internet and mobile banking services, a release said.
PNB MD and CEO CH. S. S. Mallikarjuna Rao applauded employees, stakeholders, and customers for their selfless contribution and support during the challenging times.
"127th Foundation day of PNB is a momentous occasion for us in line with our legacy. Despite the challenges put forward by the pandemic, we have seamlessly amalgamated two banks with us," Rao said.
"The integration of technology, people and business, was completed in record time enabling us to tap the growth opportunities. Customer service is paramount to us and to continue to serve the customers better, we have taken a few initiatives in the area of digitalization. These include [email protected] outlet, Online Savings account opening with Video KYC, online Pre-approved personal loan, Online Insta-Demat account and more," Rao further said.