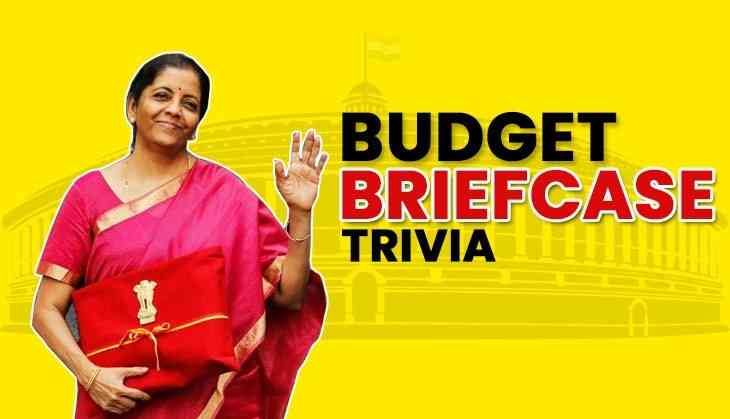 Union Finance Minister Nirmala Sitharaman has broken the age-old tradition of budget-briefcase ahead of her first Union Budget 2019 speech at Parliament. Instead of briefcase Sitharamn was seen carrying budget documents in red cloth folder known as "Bahi Khata," tied with red-golden ribbon and have National Emblem on it.
As per reports when Chief Economic Advisor Krishnamurthy Subramanian was asked about this change he said that Sitharaman believed leather made products are not auspicious for the big occasion. Bahi Khata is an Indian tradition so that's why she avoided leather bag.
He also added that it symbolizes our departure from the slavery of western thought and is not a budget rather a 'bahi khata'(ledger).
Chief Economic Advisor Krishnamurthy Subramanian on FM Nirmala Sitharaman keeping budget documents in four fold red cloth instead of a briefcase: It is in Indian tradition. It symbolizes our departure from slavery of Western thought. It is not a budget but a 'bahi khata'(ledger) pic.twitter.com/ZhXdmnfbvl

— ANI (@ANI) July 5, 2019
The tradition of posing with the briefcase before the budget speech started with our first Finance Minister RK Shanmukham Chetty after Independence on 26th November 1947. Since then the tradition was carried on by his successors.
Briefcase Trivia
Budget briefcase carries a long history, the word budget comes from a French word 'bougette' which means leather bag. The documents of Budget were used to carry in a leather briefcase which use to be of various colours red, brown, tan and black. This tradition has been continued in India since the British era who used Gladstone box.
This tradition was started in the 18th century when the Chancellor of Exchequer or Britain's budget Chief was asked to open the budget. In 1860, the then British budget chief William E Gladstone carried his budget documents in a red suitcase with Queen's monogram embossed in gold and since then this tradition continued in India until present finance minister Nirmala Sitharaman ditched this traditional practice of presenting the budget.
Also Read: Tax Budget 2019: FM Nirmala Sitharaman's maiden budget likely to give some relief to middle-income taxpayers