Take bank bosses to task for bad loan crisis, says Vishwas Utagi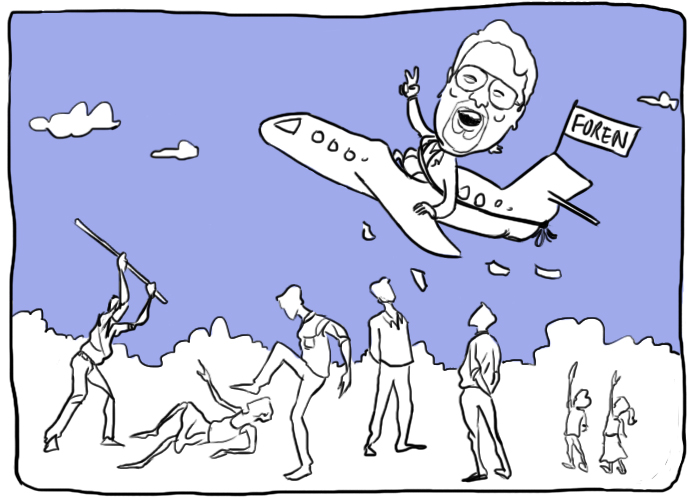 Crushed by piling debt owed to banks and predatory moneylenders, thousands of Indian farmers commit suicide every year. Just last week, recovery agents of a moneylender and local policemen were caught on camera thrashing a Tamil Nadu farmer who had failed to repay a small amount of his loan.
Just days later, another young farmer in the state committed suicide after a private finance firm seized his tractor to recover a Rs 2 lakh loan.
Read: Vijay Mallya, to celebrate his 60th Birthday with Enrique Iglesias
This in a country where a rich businessman like Vijay Mallya burnt Rs 7,000 crore of taxpayer money while partying at the most expensive destinations in India and abroad. And when public pressure compelled the state apparatus to ask him to repay his debt, he quietly flew away to London, allegedly helped along by the system.
The CBI was reportedly aware of Mallya's plan to fly to London on 2 March but didn't try to stop him.
Is there no accountability for the rich who rob this country blind and those in the system who help them do it?
It seems there isn't. Instead of fixing responsibility for the bad loan mess the public sector banks have lent themselves in, the government is talking about privatising them.
It's of a pattern, says Vishwas Utagi, Vice President, All India Bank Employees Association. In a conversation with Catch, Utagi claims his organisation had reported Mallya as a wilful defaulter back in 2013, but the bank bosses did nothing. It was only in December 2015 that the SBI moved against the liquor baron.
Excerpts from the conversation:
When did you first release the list of wilful defaulters that had the name of Vijay Mallya?
We released our first list in 2013. At that time, Mallya had Rs 9,000 crore unpaid loans to his name, of which SBI, UBI and IDBI had issued the bigger chunks. We had revealed that of the 12 banks he owed money to, only one had gone to court.
Mallya wasn't repaying loans, he should have been declared a wilful defaulter in 2012: @vishwasutagi
In 2013, Mallya's was a corporate debt restructuring account. He wasn't paying back the loans and should have been declared a wilful defaulter in 2012 itself. But the banks took way too long to declare him a wilful defaulter. And they kept delaying making his name public.
Mallya had taken the loans in 2005. And in 2009, he got his first Corporate Debt Restructuring. Instead of showing his loans as Non Performing Assets, the banks restructured his loans. And even though he still wasn't paying, the banks wanted to give him another CDR.
On seeing that the banks were trying to restructure Mallya's loans again, we issued a press release in 2012 about this. After that no bank could dare offer him a CDR.
But none of the banks tried to recover money from Mallya's companies either. The SBI sat on the case for four years. This bank's management is responsible for delaying the decision to go to the Debt Recovery Tribunal to recover the money from Mallya.
Are you suggesting that the banking sector itself should be blamed for all the bad loans that exist today?
This faulty system was introduced by the government in 2012 when Credit Approval Committees were formed in each bank. The committee comprises the bank's chairman, executive directors and three chief general managers who handle credit, finance and risk management functions. This group has the power to approve credit proposals of up to Rs 400 crore. Before 2012, any loan above Rs 100 crore had to be vetted by the management committee of the bank's board, which had a larger number of people on it.
Also read- King on the run: did Vijay Mallya leave India without repaying his debts?
So, most of the loans that are NPAs today have been sanctioned by the top managements of these banks. No lower-level people are responsible for this mess. If it wants to fix responsibility for the bad loans, the government must hold the chairmen, general managers-credit, general managers-risk, general managers-monitoring accountable.
Your organisation has been sort of a whistle-blower. Does the RBI consult you?
The RBI governor never acknowledges us. They never talk to anyone. And whatever information we put in public, the RBI never considers it important. But today, you see what we had said in 2013 is coming true. So who should be held responsible for what is happening in the banking sector today?
Now, there are voices in the government calling for public sector banks to be privatised. Do you think that would be a good move?
It's a bad idea that is being floated that by the RBI and the finance ministry that to address the growing NPAs, banks should be privatised. All corporate houses are now thinking how they can capture these nationalised banks. The problem of NPAs has been created by the private sector, then why would the government hand over the nationalised banks to the private sector? The same corporates who have not repaid loans will set up companies with different names and grab these banks.
The bankruptcy law law allow every corporate defaulter to escape any kind of punishment: @vishwasutagi
But I must say they won't be able to do this because employee unions of the nationalised banks will go on strike. The government cannot take a decision on consolidating or privatising the banks without consulting us.
Vijay Mallya has gotten away to London. But how many more Mallyas are there in this country who must face strict action?
All accounts categorised as CDR accounts are the same as Mallya's. None of them is repaying the loans and the banks are trying to hide these accounts for as long as possible. All CDRs are a result of the corporate-politician-banker nexus. We have asked the banks to recover the money from corporates by using strict measures.
Read more: SC terms PSU banks' bad debts 'a big fraud', demands details from RBI
What they tell us is they are reducing their NPAs by selling them to Asset Reconstruction Companies. But by selling loans to ARCs, you are incurring losses on public money. Now the government is bringing in the bankruptcy law. This law allow every corporate to escape any kind of punishment for defaulting on loan payment.
Edited by Mehraj D. Lone
More in Catch:
Is the Modi govt hounding Lawyers' Collective?
Own family attacked Soni Sori? Cops trying to extract 'confessions' out of kin
Sedition, quota, caste: what engaged RSS on the first day of Nagaur meet
Raking in the moolah: WT20 brings windfall to ICC & BCCI chief's association