Sonam Kapoor's in-laws spend millions on wedding but get their own workers assaulted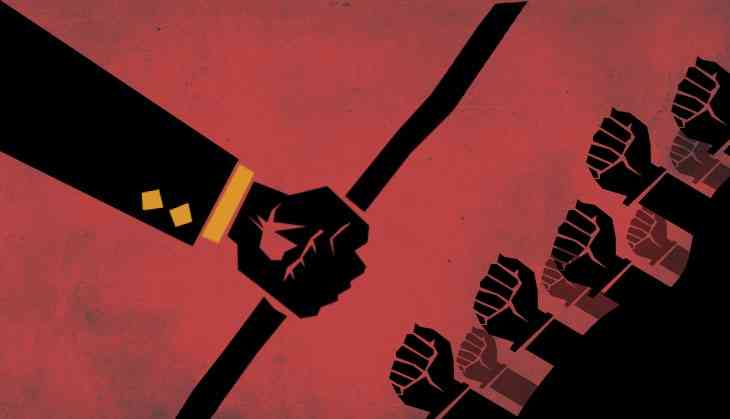 Through the last three months, as popular Bollywood actress Sonam Kapoor was preparing for her marriage with industrialist Anand Ahuja, workers of the latter's garment factory were nursing their wounds.
In April, at least 15 workers of the Unit 8 factory of Shahi Exports Pvt Ltd in Bengaluru were reportedly abused, thrashed and threatened with murder allegedly at the behest of the management.
All the workers reportedly did were demand better drinking water, transportation and higher wages.
Worker Rights Consortium (WRC), a United States-based labour rights monitoring organisation, probed the incident and has released a detailed report (https://www.workersrights.org/wp-content/uploads/2018/06/WRC-Assessment-re-Shahi-India-6.20.18.pdf) on the same.
After speaking to a large number of workers as well as representatives of the management, the WRC has concluded in its report that the management did engage "in a campaign of vicious repression and retaliation against workers' exercise of fundamental labor rights".
Rs 5,500-cr company with Rs 42 per hour wages
Shahi, India's largest garment manufacturer, is a family-owned business. Anand Ahuja, its founder's eldest son, is among the group's top executives.
The company supplies to top brands like Columbia Sportswear, Benetton, H&M, American Eagle, Decathlon, Gap, Zara, Marks & Spencer, Primark, Puma, Calvin Klein, Tommy Hilfiger, Tesco, Uniqlo, and Walmart.
Apart from the Bengaluru factory, the company has 50 other production facilities in India. It makes over Rs 5,500 crore in annual revenue but pays its 3,000-strong labour-force at the Bengaluru unit estimated average wages of roughly Rs 42 per hour only.
'Son of a whore, 'Your caste is fit only to clean bathrooms'
According to the WRC report, the atrocities commited by representatives of the management included "physical beatings, death threats, gender, caste, and religion-based abuse, threats of mass termination and the expulsion from the factory of 15 worker activists".
The report has documented in great detail the abuse and the role played therein by Shahi managers and supervisors:
Called a male worker (whose mother also works at the factory) a "son of a whore," threatened to send goons to his house to kill his family, and then led and directed his beating

Told a female worker, "It won't be a sin if people kill you and get rid of you", "you should be shot and disposed of". "no one will miss you," and then directed other workers to "kill her," leading to her being beaten, nearly strangled, and hospitalised overnight.

Stated about another female worker, "These whores are trying to close the factory. Beat her and kill her," before this worker was also beaten, had her clothes torn, and was robbed.

Told a male worker, "Your caste is only fit to clean bathrooms. How dare you ask for an increase in wages?" before leading other employees in beating and robbing him.

Said of another female worker before she was beaten, "Her caste is meant to burn dead people and that is what she should be doing. Beat her and throw her out."
Exposing the particularly anti-labour approach of the company, the report has also alleged that earlier this year, Shahi had successfully lobbied with the government of Karnataka to cancel a scheduled increase in the state's minimum wage for workers in the garment sector.
Police inaction & suppression of media coverage
The local police, reportedly investigating the incident but were yet to complete it. WRC claimed that police officials were present in the factory on the day of the assault at the company's request but took no action.
WRC also claimed that Shahi suppressed media coverage of the violence at the factory. According to the report, the English daily Deccan Herald reportedly published an article on the incident on 5 April. However, on 7 April, the newspaper removed the said article from its website and published another article, quoting the Shahi management's claim that inter-employee conflict caused the violence.
WRC has alleged the newspaper reportedly published this piece as a result of pressure from Shahi. The journalists who filed the original report testimonied to WRC for the original report.
Company's defiance continues
Even as the police case languishes, WRC has noted that Shahi has agreed to take back the workers who were injured in the violence. However, the company has done nothing to ensure workers' "safe return to the factory and fundamental right of freedom of association".
The company has also offered "reinstatement with back pay to 12 workers who were suspended by the factory after the violence, including the 10 workers who were physically assaulted". However, three other employees have not been offered a clear reinstatement and back-pay offer.
Significantly, none of the company employees accused of verbal abuse and ordering physical assault have faced any disciplinary action. Only a few have been transferred to other units, which is hardly a disciplinary move, while most of them are still working at the Unit 8 factory.
WRC also claimed that Shahi refused to commit to recognise the workers' union.
Interestingly, the report has also exposed the duplicitous role of the big brands that are Shahi's customers. None of them have pressured Shahi's management to take action against the accused and recognise the assaulted workers' rights, even as they claim to stand by these principles in their own internal policies.
"Managers at India's biggest garment producer assaulted and threatened to kill nearly a dozen workers, because they asked for a raise. And what consequences does this supplier face from customers like Abercrombie & Fitch, Benetton, Columbia, Gap, and H&M? None. Two months later, the same vicious managers are still in charge and the factory is still enjoying the uninterrupted patronage of these brands," WRC Executive Director Scott Nova said in a statement.
Nova noted that all of these leading brands have policies "supposedly prohibiting physical and verbal abuse of workers and protecting the right to unionise". However, the fact that they are refusing to demand their supplier to follow similar practices shows that they do not take their commitment to human rights seriously, Nova added.
Catch News reached out to Shahi's management for comments but was yet to get a response.