Paradoxical India: India on 10 wealthiest countries list, takes 7th spot
Catch Team
| Updated on: 10 February 2017, 1:47 IST
India is a land of contrasts. We may be home to 172 million people who fall below the poverty line, but paradoxically, a new report states that India ranks seventh in terms of personal wealth in the world.
Published by New World Wealth (NWW), a wealth intelligence and market research company, the India 2016 Wealth Report is based on interviews of High Net Worth Individuals (HNWI) and features companies such as the Ambani empire, Housing Development and Finance Corporation Bank (HDFC), PremjiInvest, Godrej and Yes Bank among others.
Total amount of net assets or wealth held by Indians.
In terms of individual wealth, India ranks 7th - only after the US, China, Japan, Germany, the UK and France.
Canada, Australia and Italy fall behind India on the list.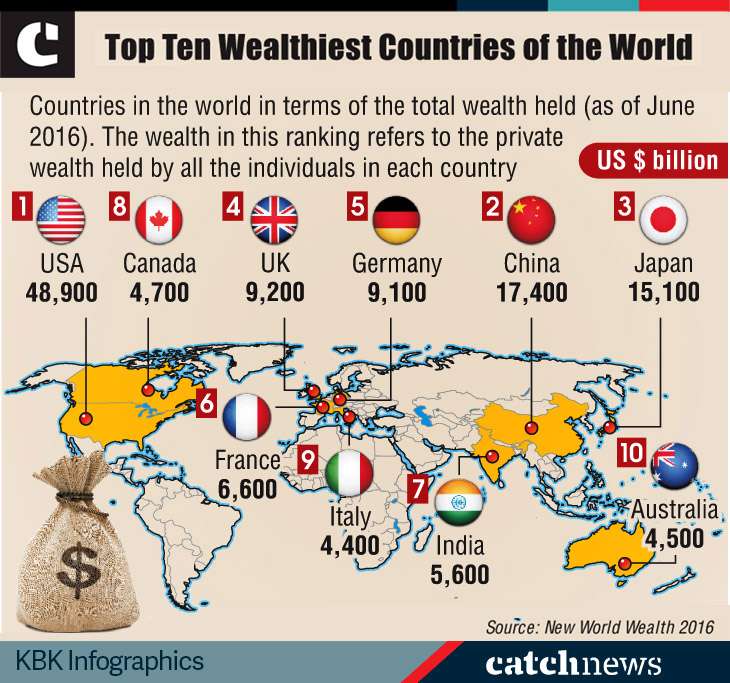 The average individual net assets of Indians.
In 1947, India's per capita incomes were the same as China and South Korea.
Total number of HNWIs residing in India.
They have a combined wealth of $ 1.5 trillion.
This means more than one-fourth of India's total individual net assets is held by these HNWIs.
Also read - Want to win an Olympic medal? It helps to be from a rich country
Total number of HNWIs in India in 2007 - the year the review by NWW began.
In 2015, the number of HNWIs increased by 55%.
According to a different analysis by Karvy, a financial services company, direct equity and fixed deposits and bonds is their main sources of wealth while international assets is the lowest source of wealth.
The amount which is invested in venture capital companies and foundations by India's wealthy.
These companies and foundations are usually run by the children of the HNWI's.
More in Catch - India calls out rich nations' figures on climate funds. Here's how
4 natural resources that are making this world a more violent place