Missing Persons alert: Why are Indian promoters afraid of women directors?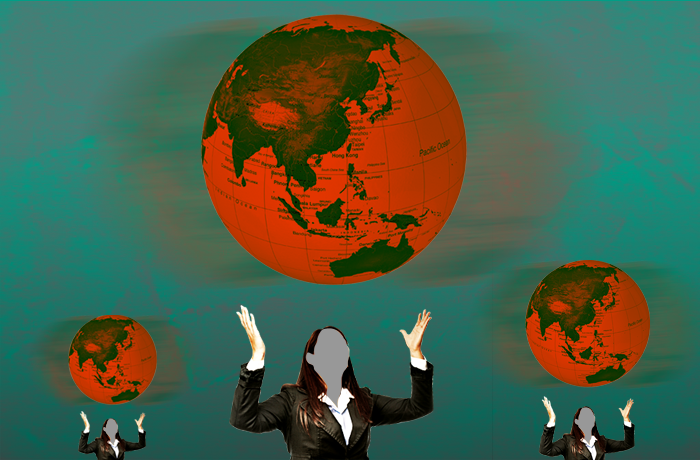 One step forward
SEBI directed companies to have at least one woman board director
This would ensure fair representation and increase diversity in decision making
But 25% of India10,000 listed firms have failed to comply
Their excuse: there aren\'t enough \'qualified\' women to appoint
Two steps back
Share of women board directors in India is 7.7%. Norway has 36.7%
Poonam Barua: there are enough capable women, they just aren\'t promoted
More in the story
How are companies making a mockery of SEBI guidelines?
Which companies are the most prominent defaulters?
What\'s the economic advantage of appointing more women directors?
It's eight months since the securities market regulator SEBI directed listed companies to have at least one women director on their boards.
But over a fourth of the 10,000 companies listed under the Companies Act, 2013 have failed to comply.
Many of the firms that have complied have appointed women from their promoters' families, thus defeating the very purpose of the move - to broad base decision-making.
The Bombay Stock Exchange has so far fined 370 firms - the penalty is Rs 50,000 - for not complying, but over 2,500 companies continue to defy it.
Their excuse: absence of enough "qualified" women to appoint as directors.
Is there really a dearth of 'qualified' women directors?
Nearly every expert Catch spoke with disagreed with the "lack of talent" argument.
Naina Lal Kidwai, the chairperson of HSBC India, said, "It is clearly a case of mindset. There are enough women in the Indian corporate sector that can do that job. It's no rocket science. If women can be present at managerial levels, they can certainly be promoted to a director's position."
Kidwai rues the lack of "supportive human resource policies" for women. "Most women have to quit their jobs after becoming mothers because Indian organisations do not have favourable policies for them. We need to have more leave for women who become mothers."
"A lot of new-age companies are introducing more maternity leaves, sabbaticals and flexi hours but a majority of Indian companies are oblivious to the need to have special provisions for women employees," she says.
Kidwai, the first women president of the Federation of Indian Chambers of Commerce and Industry, India's oldest industry association, has, on her part, trained three batches of 25 women each for directorship positions.
Can the government help redress the imbalance?
Kiran Majumdar Shaw, the managing director of Biocon and an independent director at Infosys, says the government should strictly implement the SEBI's guidelines.
"The government needs to be strict with the penalties, otherwise these companies will take this issue lightly. If the situation does not improve, we can look at increasing the penalty," she says.
According to reports, the government is already planning to issue show cause notices to the errant companies.
For every three men in India's labour market, there's only one woman.
The country ranks 134th out of 136 nations in "women's economic participation", according to a report by the World Economic Forum released earlier this year.
As for senior corporate jobs, a study by Deloitte Global puts the share of Indian women board directors at 7.7%.
According to this study, Norway has the highest share of women board directors at 36.g7%, followed by France at 29.9%, Sweden 24.4%, Italy 22.3% and Finland 22.1%.
In China, women make up 8.5% of board directors.
How firms are making a mockery of SEBI guidelines
There is another disturbing aspect to the story. Many of the companies that have complied with the guidelines have done so only in letter rather than in spirit. They have effectively rendered the very purpose of the guidelines meaningless.
What exactly have they done?
As per data compiled by PRIME Database, at least 138 directorships, or 12.26% of all appointments so far, have gone to women belonging to the promoters' families.
Here is a list of some of the prominent ones.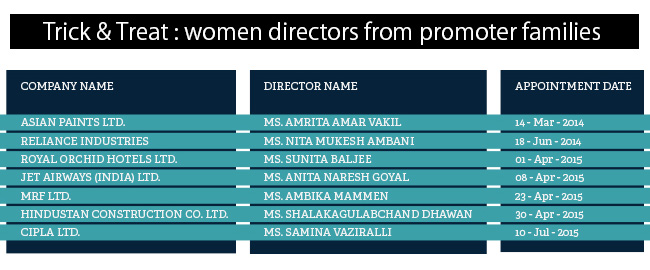 This is similar to women candidates contesting Panchayati Raj elections, but only to serve as proxies for male politicians who can't fight on seats reserved for women.
"Companies need to be more serious about the whole idea of having women directors, which is to promote diversity. Having a woman from the promoter group or family defeats the purpose," says Pranav Haldea, the managing director of PRIME Database.
Poonam Barua, founder chairman of the Forum for Women in Leadership and CEO, WILL Forum India, says Indian companies have "shown that they just want invisible directors on their boards".
"This attitude needs to change," she adds. "There is no such thing as a 'qualified' board director. There can only be capable people. The government should ensure that companies do not get away with excuses like they don't have talented people."
Barua points out that the number of women in junior and mid-level corporate jobs is almost on a par with men. "But promotions are not fair and women find themselves out of contention for senior positions," she argues.
The change in attitude that Barua advocates, however, is unlikely to happen anytime soon. So, SEBI must take to task companies that do not appoint women directors soon.
It must also amend the guidelines to ensure promoters don't make a mockery of the idea by keeping the jobs in the family.
Purely economic reason to have more women directors
According to the accountancy firm Grant Thornton, publicly-traded firms with all-male boards lost out on a total of $655 billion in potential profits across India, the UK and the US last year.
The study, called Women in Business: The Value of Diversity, studied 1,050 businesses - 200 in India, 350 in Britain and 500 in the US - and compared performances of companies with all-male boards with those having at least one woman director.
The study found that companies with gender diverse boards earned, on average, higher returns on assets. That is, they make more money.
That should convince Indian companies to promote more women, if no other reason.