Is Arvind Subramanian invoking the spirit of Raghuram Rajan's fearless expression of thought?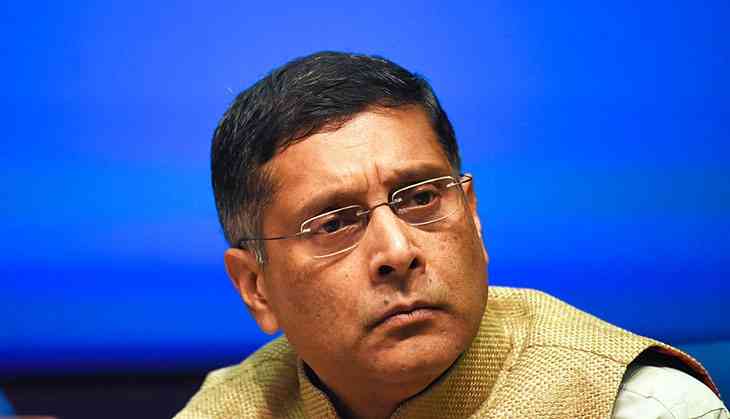 (Photo by Vipin Kumar/Hindustan Times via Getty Images)
That India is a land of yes-men is a fact well known. Those who decide to go against this cultural norm, especially in the government sector, often face ignominy, neglect and in serious cases – the axe.
The Chief Economic Advisor of India, Arvind Subramanian rued this culture in his recent speech delivered at KRV Rao Memorial Lecture in Bengaluru.
Also read: Competence, truth and power: macro-economic commentary in India
In his long lecture, Subramanian criticised the 'yes-man' culture by saying – "Experts often hold back their objective assessment. Instead, they censor themselves, and in public fora are insufficiently critical and independent of officialdom – whether the officials are in Mumbai or Delhi. To the extent they offer criticism, it is watered down to the point of being unidentifiable as criticism."
Subramanian, of late, has been outspoken in his criticism against various government policies to the point that he recommended exactly the opposite of the current dispensations' actions.
To his claim, Subramanian recently started the practice of writing a dissent note in the report of a committee that he himself was a part of. He outrightly rejected the proposal of the fiscal Responsibility and Budget Management panel headed by former revenue Secretary NK Singh.
On another occasion, he criticised the view held by the Union Commerce Minister, Nirmala Sitharaman that a stronger rupee is reflective of a healthy economy.
Also read: Will Nirmala Sitharaman's romance with a stronger Indian rupee cost Indian economy dear?
While Subramanian's allegations against Indian experts and economists being yes-men is right, one wonders to what extent he is willing to take the government on himself.
Dissenter in the ranks
Because if Subramanian is wishing for fearless expression of ideas and thoughts on issues being debated, the country has recently seen a casualty of a man who was a quintessential dissenter and was least bothered about the establishment's anger.
His style of no-holds-barred commentary on important matters in the country was so uncommon by Indian standards that those impressed by him called him a rock star. A term not often used for economists.
That man was former Reserve Bank of India Governor Raghuram Rajan, who did not get an extension for the position for having become the poster boy of a culture that promotes difference of opinion and standing up to the government.
Rajan paid the price for being outspoken, someone who called Indian economy 'andhon mein kaana raja (a one-eyed king in the land of the blind)' urging policymakers to not get swayed by terms like – 'the fastest economy in the world'.
On another occasion, Rajan ruffled the establishment's feathers by stepping into the 'intolerance debate' saying that,"The first essential (for the government) is to foster competition in the market place for ideas. Without this competition for ideas, we have stagnation."
Rajan also cautioned against the Make In India scheme's effort to make India a global manufacturing hub, arguing that the world did not have space for two Chinas and India should focus its energies elsewhere.
There were many other occasions where Rajan was cheered for his spontaneity, ingenuity and the whiff of anti-establishment in his opinions.
But those cheers for him could not get him an extension for his term as the RBI governor to complete the tasks that he had set out with at the beginning of his term.
His last letter to his colleagues at the RBI showed that he was 'open' to accepting an offer of an extension to resolve the mess of non-performing assets in the Indian banking sector.
So when Subramanian, invokes the spirit of fearless expression of ideas, is he asking people to embrace Rajan's martyrdom to get the establishment used to the idea of dissent? Or does he advise some sort of selective dissent in exclusive fora?
We will have to wait and watch.
Edited by Jhinuk Sen