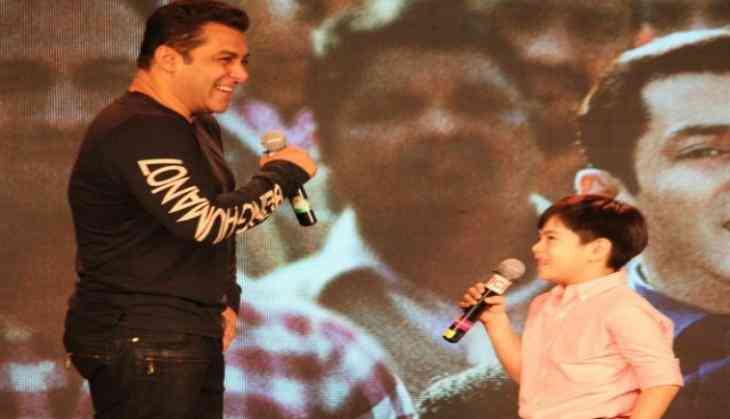 The makers of superstar Salman Khan-starrer Tubelight are leaving no stone unturned to promote their film. Now as a new strategy to promote the film, the makers of the movie introduced the audience to the little boy from the movie, Matin Rey Tangu. The kid who belongs to Itanagar, Arunanchal Pradesh shared the stage with Bollywood actor Salman khan in a press conference.
The event was full of excitement and joy until a reporter asked Matin, "if you have come to India for the first time?," assuming he is not from India. Matin did not hear her question and asked her to repeat, but the media person was corrected by another reporter sitting beside her. After realizing her grave mistake she changed her question and asked "If this is the first time you have come to Mumbai?"
Salman Khan who heard the first question interrupted the Journalist and said to Matin "She is asking, if you have come to India for the first time?" The reporter repeated her question and said, "Is it first time in Mumbai?" Salman, however, ignored her and asked Matin again, "She is asking, if you have come to India for the first time?"
After hearing Salman Khan, the kid seems a little confused and then after a pause, Martin respond "Hum India par hi baitha hai to India par aayega hi kaise? (If I am staying in India, how would I come to India?)" after hearing his reply to the Journalist the entire crowd emerged in cheers and applause.
The film 'Tubelight' is directed by Kabir Khan and the story of the film revolve around 1962 Indo-China war. The film features Salman Khan and his brother Sohail Khan. The film will release on 23rd June 2017.