The theatrical trailer of Sultan featuring Salman Khan and Anushka Sharma has met with an overwhelmingly positive response from the trade and audience, alike.
The trailer gives a glimpse of the rise, fall and rise of Sultan Ali Khan and introduces his love interest, Aarfa, who is a Haryanvi wrestler. The 3-minute long trailer was launched at an event in Mumbai where the cast interacted with the media.
Here's what Salman said at the event:
Is Sultan a biopic?
Sultan is not a biopic; it is completely fictional. It is Ali Abbas Zafar's imagination and revolves around the life of an underdog. Sultan is about how he goes down and then comes back up with the help of women he loves. The girl is responsible for making him, breaking him and again because of her, he rises. It is a beautiful love story set in back drop of wrestling.
Also Read: Watch YRF's Sultan trailer: Can Salman Khan's swag get any better?
How difficult was it to get into the character?
Meri toh bhai iss picture main vaat lag gai. When Ali narrated the script, I thought it would be easy for me to pull it off. But when it boiled down to execution, this guy (Ali) made me fight with all real-life wrestlers. Those guys expected me to fight like real wrestler and all the sequences in the film have been shot without any cable. I got beaten up by those guys so many times on set and it was difficult for me to pick them up and throw them down. When a wrestler trains, he trains for three hours a day. I had to shoot for the film six to seven hours a day and at the same time train for three hours in the morning.
Your character is sure to be greeted with whistles across India, what do you have to say?
We didn't make this film thinking that the audiences would whistle on one particular scene. Whenever the intent is to make the audience whistle, the scenes fall flat. We as actors never know what kind of reaction a particular scene will evoke.
Will this be your biggest hit till date?
We have just given our best and obviously everyone associated with the film wants it to be the biggest hit in Bollywood. I would be a fool to say that I don't want this film to break my previous records. Ali Abbas Zafar has worked very hard for the film.
Also Read: Ahead of Sultan trailer launch, Salman Khan lauds spirit of Indian sportspeople
What was most difficult part in the film?
The most difficult part in this film was wearing that langot. While shooting for Sultan, I realised what heroines must be going through when they wear a Bikini. I recall an incident when I had to wear the langot for the first time. When I reached the sets wearing it, I saw around 5,000 people screaming 'Bhai' and I was like 'Koi chance hi nai main yaha shoot karu'. After that, when I was walking from my van to the shooting locations, I was feeling violated. I am never shy to remove by shirt while shooting, but this time I was super shy. Some people were screaming 'Aye haye' and all that... That was the most difficult thing but thank God people got used to the visuals.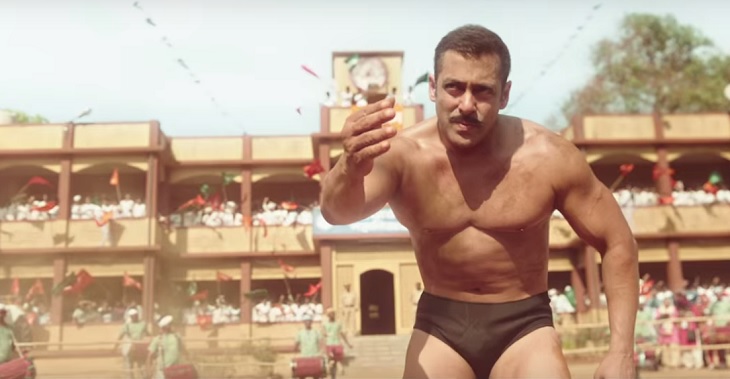 YouTube screen grab
What can we expect from the music of Sultan?
Sultan's music has a folk flavour and that's why it is very different from my previous films. It has shaped up well.
Sultan releases this Eid.