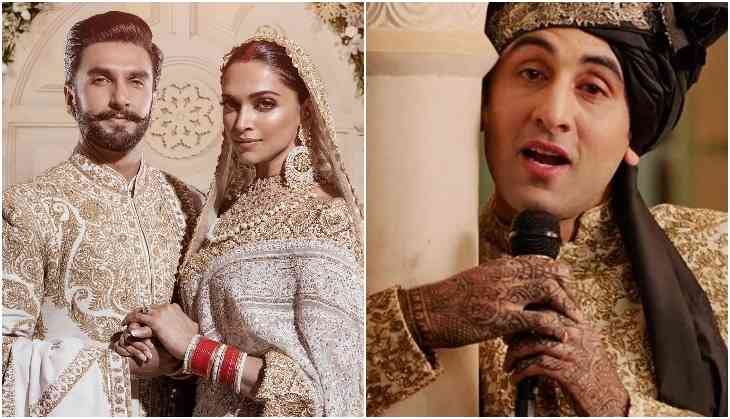 Bollywood star Ranbir Kapoor is really an amazing actor and besides his professional, the actor has always been a part of personal life as well. But there is really two ways when it comes to love in his life. In his movies, we have always seen him losing the girl he loves to another man, while in real life the story is totally different as he himself opts out from nearly every relationship.
From Deepika Padukone to Katrina Kaif, he always has come out of his relationships and not just with ladies related to the entertainment industry but also with ladies those were not related to the film industry. Recently when the reports of Deepika Padukone and Ranveer Singh's marriage came out, then people started joking about Ranbir Kapoor that he will sing Channa Mereya at Deepika's wedding like what he did in Ae Dil Hai Mushkil.
December 1, 2018
Now one close friend of Ranbir Kapoor told Bollywood Hungama, "The joke about Ranbir singing and dancing to 'Channa Mereya' at Deepika Padukone – Ranveer Singh wedding got to Ranbir. He doesn't appreciate the public image of the serial dater who never gets the girl. Ranbir is now looking for permanence in his relationship. And you are right. The image of loser in love through his roles doesn't help. He just decided to stay away from Deepika and Ranveer's wedding reception although both of them had invited him personally and urged him to come. Perhaps, Ranbir Kapoor is now looking at attending one wedding. His own."
On the other side, the young lad Ranbir Kapoor is also not in the mood to celebrate anything because his father Rishi Kapoor is seriously ill. The father-son duo who were not so close in the past life have really come so close in this tough time of family.
Also Read - Bollywood singer Mika Singh to be produced in Dubai court today after a girl lodged a harassment complaint