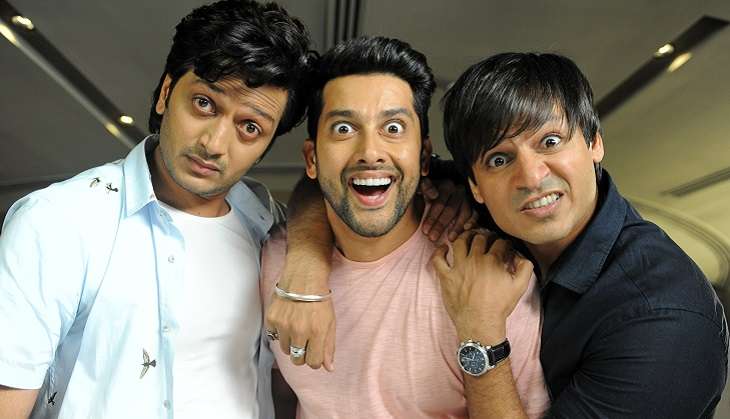 Indra Kumar\'s third of the franchise after Masti and Grand Masti
Third sex comedy of 2016 after Kya Kool Hai Hum 3 and Mastizaade
Beyond redemption; unfit for human consumption
Rating: 0 Stars
Over the years, in between rare gutsy left-field projects (Love Sex Aur Dhoka, Udta Punjab), Ekta Kapoor's Balaji Motion Pictures has produced such a humungous amount of gibberish in the name of horror and comedy that they've reached a stage where they have no choice but to spoof their own idiocy (idiot+legacy). Only this time, since they haven't gotten either of the two much-abused genres right in decades, Wikipedia has termed their latest as a "Bollywood spooky adult comedy film." This isn't the first time they've run an obscene crossbreeding experiment; Ragini MMS 2 was known as the country's first 'horrex (horror+sex)' movie. Will Great Grand Masti, Indra Kumar's third in his trifecta of evolution-defying multi-starrers, be known as Bollywood's first 'cooky' film? I see a penis innuendo coming. But then again, I've just spent 128 minutes being exposed to the radioactive aura of writer Tushar Hiranandani's inanity. I'm almost disappointed that his partner-in-bad-rhyme Milap Zaveri isn't involved here. These two forefathers of vulgarity are, after all, the red-blooded Indian male's last (legal) hope.
And I haven't even begun to comprehend the sheer terror of jumpstarting the hyperventilating careers of Vivek Oberoi (with moobs and a belly) and Aftab Shivdasani (with that unnaturally broad and gummy joker-ish grin). And, of course, there's Ritesh Deshmukh, who is to Indian comedy what Bipasha Basu is to horror, a perpetual pillar bolstering every deranged abomination made in the last ten years. When aliens invade this planet in the near future, their spaceships will broadcast a never-ending loop of the Basu+Deshmukh show in Dolby Atmos, thus wiping out mankind without resorting to bloodshed. Who needs a meteor? I'm fairly certain that advanced time-travel allowed these aliens to wipe out dinosaurs with this exact same strategy. And dinosaurs don't even understand Hindi. What exactly do the lyrics, "I wanna tera Ishq" mean anyway? Did they mute a verb? How is this grammatically legal? Why are lyrics? Is (Urvashi) Rautela just tapori slang for (Sonali) Raut? Did I just crack a so-bad-it's-good pun?
Oh, right, the review. The joke is kind of on me when I say that this "film" is about a busty sexually frustrated ghost named Ragini (Rautela) haunting an old mansion in search of a masti-loving male to quench her unrequited 'suhaag raat' desires and attain true moksha. That is correct. No, this isn't a Vikram Bhatt supernatural saga - or is it?
The template isn't any different from the first two. This one is even more predictable in its aggressive desperation to offend. A sultry maid (Raut) calls herself Shiney, the prospect of Vivek Oberoi sucking on Aftab's butt cheeks presents itself, and worst of all, Shreyas Talpade appears as a gigolo called Babu Rangeela, who is turned into a chicken and then served as everyone's favourite tandoori dish. Was that a spoiler? Will this spoil your thrilling experience of watching such an outstandingly original film?
The tired metaphors are the same too: Three idiots; bored with wives; breasts; crave outdoor 'biryani' instead; try to sell horny mansion; breasts; spend second half trying to subdue their erections to escape from amorous ghost; breasts; karwa chauth and sanskaari wives save the day; Vivek Oberoi gives birth. Okay, maybe not that last one.
Notice the subversion, though? None of them want to sleep with the sexy ghoul. At one point, a sneaky Viagra overdose leads to Aftab playing the 'Gandi Baat' tune on the piano - with his oversized member. I confess to laughing a bit here, only because I couldn't really grasp the surrealism of watching this scene at 11 PM on a rainy Thursday night. At 11.15 PM, the three men attempt to rape one of their wives' mother-from-hell. At 11.30 PM, I watched the respectable Sanjay Mishra shit out a watermelon. Reflect on this. Until then, he was almost half funny as a fraud baba conversing in absurd Hindi-song lyrics.
Even Yashraj Films went through a phase of lazy, derivative wink-wink self-referential rom-coms when they ran out of ideas. Rohit Shetty's entire career is built on this. But the way Balaji has convinced repeat-offender Indra Kumar to run amok in their own film library points to a rather disconcerting possibility: Do they actually think this is a "homage" to themselves? That's like a schizophrenic copycat killer going on a rampage to pay tribute to his own gory legacy.
Only if they stopped genre-labeling these films, the Ragini MMS series would find validation as India's funniest franchise, while this Masti series has already achieved the singular distinction of being India's scariest and most horrific, toe-curling, nail-screeching and hair-raising franchise ever made.