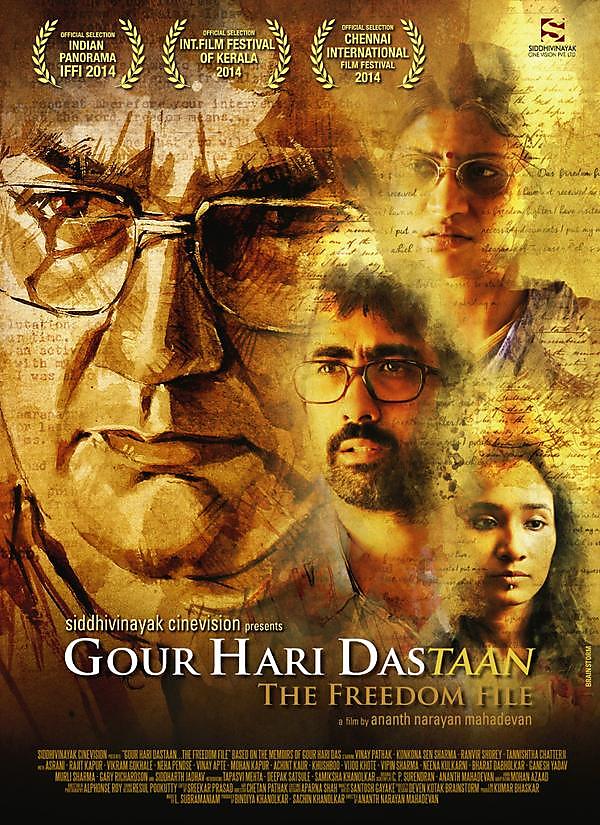 Based on the life of Mumbai-based Gandhian, Gour Hari Das
Das took 32 years to secure Freedom Fighter\'s certificate (Tamrapatra)
Makers choose a noble story, but over-dramatise its characters
Evocative in its bittersweet portrayal of a messy system
If there's an octogenarian at your dinner table every night, chances are you've repeatedly heard about how modern India has lost the plot, and about how cultural devaluation is a direct result of economic revolution. And invariably, "Gandhi should have let them stay."
Crude, but not empty rants. As Ananth Mahadevan's biopic shows, Gour Hari Das shares their sentiments. But there's a difference. His words hurt; like those of a father admitting he was wrong to let his daughter make her own choices. Think about it. How heartbroken must a nation's freedom fighter be, to admit that perhaps the 'enemy' wasn't so bad after all? At least they were visible, he sighs.
Das fought two battles, and lost to his own country.
Das hasn't come to this conclusion by watching news programs. It was the second battle that broke his heart - one he fought within and against his own country. It wasn't about pension; he isn't the kind of cinematic chap who would strip in public to embarrass the officer into submission.
This is real life. It took Das 32 years to prove that he fought for India; that he was 13 when he did; that he was in jail for 90 days, and that Gandhi blessed him.
He never lost hope, but along the way, he lost faith.
A particular scene drives home his gradual disillusionment. While shifting to Dahisar in 1982, he sees the new poster of Richard Attenborough's 'Gandhi' - the Oscar-winning biopic in which English actor Ben Kingsley plays Mahatma Gandhi. The irony isn't lost on him. Maybe he was thinking - they know us better than we do. They make movies and buildings better than we do.
Vinay Pathak, who has again been entrusted with the task of playing a righteous man, has this earnest face. But even when he's acting well, it's clear that he's acting. As Das, his silences are far more compelling than his measured lines. Konkana (as the wife) and he provide Mahadevan's flawed vision with goodness, and an honesty that almost makes us forget this is a not-so-great movie about a great man.
Filmmakers overuse creative license, create cliches
In all likelihood, his life lacked the drama we end up seeing on screen. The same could be said about Manjhi, the man who chipped away at a mountain for 22 years with a hammer.
Theirs was possibly just an endless, pointless routine.
Hence, in an inexplicable display of creative liberty, Das is given Alzheimer's to make it a race against time, so that he can use the poignant line, " before I forget the meaning of freedom."
To infuse further conflict, every other character is presented as a Madhur Bhandarkar-ish caricature. This film would smash records if it earned a rupee for every time Ranvir Shorey's angsty journalist character scowls "feminist!" Meanwhile, feminists freely address men as "male chauvinist pigs"; newspaper editors drop pompous anecdotes about success; NRIs wish for American technology while cursing Indian elevators; son hates on India for the heck of it. It's the casting that gives them away. Each of them - Saurabh Shukla (lazy officer), Vipin Sharma (sheepish neighbour), Asrani (sarcastic boss), Mohan Kapur (again, psychiatrist), Murali Sharma ('sarkari' clerk), Vidya Malvade (feminist journo), Vikram Gokhale (CM), Neena Kulkarni (senior clerk), Rajit Kapoor (eccentric lawyer) - represent obvious emotions instead of actual roles in Das' arduous journey.
Another recurring problem with freedom fighters in films is their self-awareness; they act like they know they'll be hailed, and orate like they know they'll be famous. But in that moment, they weren't even sure of a future. Because he must evoke sympathy, Pathak mentions the word 'freedom' infinitely and self-consciously. However, his journey strives on repetition, which is why the film's length and frustrating lack of fluidity is both, its strength, and weakness. That it still flits between three different eras without grating is credit to Mahadevan's ambition.
Film is the best medium to portray Das' incredible story
Das is 83 now. Through the tainted windows of Mumbai's countless bureaucratic offices, he has seen India go from an organised colony to a messy bachelor pad; one that hemorrhages 140-character bursts of outrage. What's incredible about his life is that even in vindication, there is resignation. He knew that it wasn't his victory, but their prolonged defeat. His ordeal became a scathing indictment of a broken system.
Like its protagonist, 'Gour Hari Dastaan' is unlikely to galvanise any path-breaking change. At times, it merely lends imagery to a documented tale of redemption.
But I'm moved, more by the futility of it all. The final result - a wordless exchange between husband and wife - I'd like to believe in its authenticity, in its existence. The film, in a way, does its job.
Watch the trailer here: