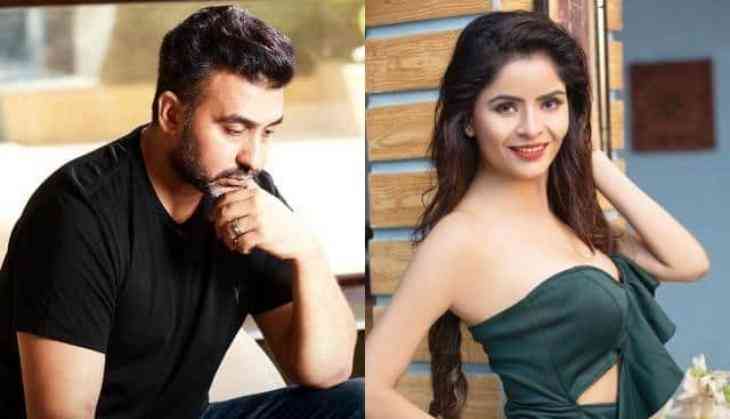 In a new development in the Raj Kundra pornography case, actress Gehana Vasisth and Rowa Khan, accused in the matter have a lot to worry about. According to sources close to the police have put out the statements of twp victims who claim that they were compelled into filming smutty contents. Both accounts of the victims place the shooting of the obscene contents at the same bungalow in Madh Island.
First victim, aged 25, had earlier worked in Bhojpuri, Marathi and Hindi movies. In 2018, she came across a casting director identified as Raunak, who then helped her get roles in web series and short films. In February, Raunak gave the victim a project to be made my Rowa Khan. In her statement, the victim said, "On February 2, 2021, Raunak asked me to meet him in Malad. Rowa and Raunak arrived in a car and they took me to Green Park bungalow in Malvani area of Madh Island. There after making me wear uncomfortable and extremely short clothes, I was handed a script and Rowa Khan promised to pay me Rs 25000. I was initially given a script to read called 'Single Mother'. But soon after I was told that the script will not suit me because I was very thin. So, I was given another script by the name of 'Bartan Wali'. I felt dirty after reading the script, I told Rowa madam that I won't be able to work on it." The victim though was assured by Rowa that not many people will watch the show because the platform was going to charge money to view the content.
Rowa went on to persuade the victim that they would change her name and look for the film and not reveal her identity. Rowa also said that all heroines have to work in such films before they get their big break. Once the victim was talked into doing it she was made to record a video. She says, "I had to look into the mobile camera and say 'Hi, my name is Shanaya. I have worked in a very bold web series on Hot Hit channel. To see this look, download, like and subscribe to the Hot Hit channel. I have no problem with this web series being released anywhere."
The main actor Bhanu and a friend of Rowa's identified as Pratibha assured the victim that she will only reap benefits from the projects. Furthermore, the victim stated "In this web series I was called sexy bartan wali. Once shooting began the hero took me to a room and asked me to lie down on the bed. The dialogues that were given to me then, made me uncomfortable and I kept stuttering and had to take retakes. Rowa madam lost her patience and shouted at me. She said, 'Have you never had a boyfriend? Why are you so shy? It's not like I am asking you to have sex'."
The victim girl was continuously pressured by Rowa into acting lustful and seductive. The victim also took notice of that all the scenes were being shot in a mobile camera. After shooting of half the script, Rowa and the camera operator told the victim that she will have to do nude scenes. The victim recollects, "Rowa madam told me all remaining scenes will be shot without clothes. She assured me there would be no real sex, but I would have to be completely naked. When I protested and asked to be let go, she threatened me that she'd file a case against me. Also, she will force me to pay damages for all the costs of the shoot and not pay me my wage as well. Furthermore, she will ensure no one works with me again. Under pressure, I agreed. After practicing 2-3 times, I was able to perform the scene on the bed in half-naked condition. Just as we finished a kissing scene with the lead hero, a few men and women, wearing civilian clothes barged into the room and claimed to be the police. The shooting was immediately called off."
The other victim, who was 20 years old had been working in Hindi and Marathi series from 2016, during which she met a guy named Ajit, it was this guy who in return introduced the second victim to a casting directors Naresh and Mitul on 10th January, 2021. In the time ofa conference call, Naresh offered second victim a role in a web based series about a queen. She was told the series was being filmed in Madh Island and that she would be given a pay of Rs 10,000. In her statement, the second victim further disclosed that, "Naresh asked me to meet him near Malad station, after which he took me to Green Park bungalow in Malvani area. Over there Naresh informed me that the producer director of this web series would be Gehana Vasisht. The man who looked after my make-up was named Umesh. After a while Gehana Vasisth brought me clothes and having worn that costume, I went out on to the garden of the bungalow to shoot. It was here that Gehana explained to me about my role and said that this web series was the story of a King, his Queen and three dwarves."
The second victim was informed by Gehana Vasisth that she was doing a role of the queen and the king would be played by a guy, identified as Akash. The victim was also guaranteed that the whole series will be shot with her clothes on. Following the commencement of shoot, Gehana Vasisth took the victim into the bungalow. Furthermore, the second victim says, "There she gave me scarves to wear, at the same time the three dwarves came in. One of the dwarves told me that they are waiting for me to turn 18 so that they could have physical relations with me. After saying that he started taking me to another room but when I refused to do so, Gehana threatened me and forcefully took me inside. After that the 3 dwarves took off my clothes and had physical relations with me turn by turn. After this whole thing was shot, the dwarves left the room."
The second victim alleges that Gehana Vasisth then told her to change into her new outfit. When she didn't cooperate and asked to leave, Gehana issues threats to the victim, the victim says, "She told me that they had spent Rs 10 lakhs for the shoot of the series and if I left, I would have to pay them 10 lakhs compensation. I told her, I don't have that kind of money." Following which the guy named Akash entered the room and proceeded to having physical relations with the victim. The victim concludes, "Once the shoot was done the I pleaded to Gehana to let me go and then she threatened me and warned me to not speak about this shoot to anyone nor go to the police, or there would be dire consequences."
According to ETimes, identity of both victims were concealed due to security reasons. The details in the victim's statements allege that Gehana Vasisht and Rowa Khan forced the victims to take part in the filming of obscene content. Gehana Vasisth has not yet appeared before the crime branch officials in the on-going pornography case.
Also Read: Raj Kundra Pornography Case: 'No clean shit to Shilpa Shetty', more victims approach police