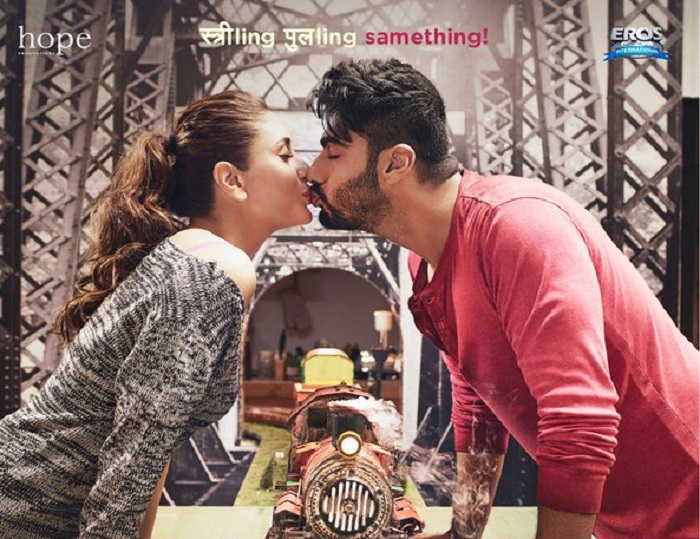 Arjun Kapoor, Kareena Kapoor and team Ki and Ka are charged up for the launch of the theatrical trailer of what is touted to be one of Bollywood's most unconventional romantic films yet.
Directed by R Balki, Ki and Ka focuses on the relationship of a married couple - with Arjun Kapoor playing a house husband and Kareena Kapoor playing a working wife.
The team recently launched the first poster of the film. Speaking about the poster to Bombay Times, Kareena Kapoor said:
Also Read: Ki and Ka: Release date of theatrical trailer of Kareena Kapoor Arjun Kapoor film out
"This picture was everyone's favourite. It has the vibe and energy of the film. There is nothing forced about it. The photograph reflects the intimacy and warmth shared by a married couple. I am sure couples meet and greet each other lovingly. I guess it is my first kissing poster but I don't think it is a big deal. We play a cool, unconventional couple in the film; if we don't kiss, who will?"
Arjun Kapoor feels that Ki and Ka is one of Bollywood's most "hatke films". He also said the film would make marriage look good on the big screen.
Also Read: Ki and Ka: Arjun Kapoor-Kareena Kapoor get 'messy' treatment on the sets
"This is unlike any space that I have been in. I can genuinely say that this movie is hatke. This time, the only way I can describe Ki & Ka is that it is unique. I am sure you haven't ever seen a character of a stay-at-home husband by choice. He is not a loser or a laid-back guy; he just wants to be the homemaker. This film makes marriage feel and look cool."
Ki and Ka releases on 1 April 2016.