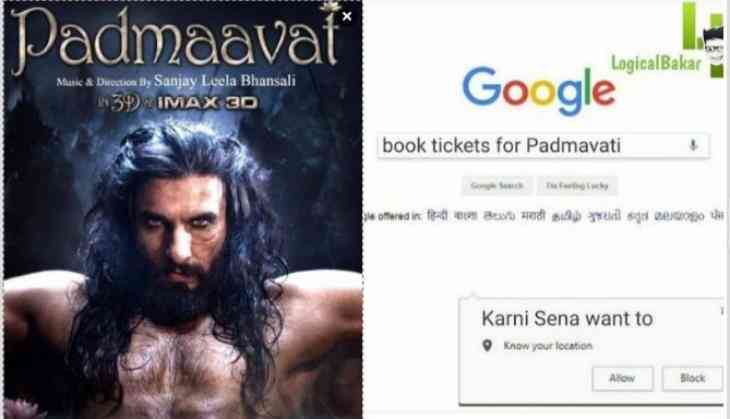 Padmaavat row: Twitterati takes dig at Rajput Karni Sena after Supreme Court's verdict
The controversial film of Padmaavat makers finally have taken a deep breath when Supreme Court's verdict came out on Thursday. Actually, four BJP ruling states Gujarat, Madhya Pradesh, Rajasthan, and Haryana had put a ban on Sanjay Leela Bhansali directorial film.
Today Supreme Court gave a verdict against the all four states and upholds the ban on the film. The film Padmaavat is going to hit the screens on 25th January and SC told that it is freedom of speech and the film could not be banned to release. After this supportive verdict, the Twitter has started taking a dig at Rajput Karni Sena and government.
Now we have brought some tweets that will make your day how the fans are having fun on this verdict.
Also Read - Good news for Padmaavat fans: SC upholds ban from four states; film to release in all states
#Padmavat notorious #KarniSena pic.twitter.com/MwQ25QsUF1

— Sakshi Joshi (@sakshijoshii) January 17, 2018
#SanjayLeelaBhansali Right Now #Padmavat pic.twitter.com/kpvZmsryDO

— ❤🇮🇳Raj Ajay Dubey 🇮🇳❤ (@RajDube5) January 18, 2018
Sensible Indians right now after witnessing 'Kanoon andha nahi hota'.. #Padmavat #PadmavatiControversy pic.twitter.com/UV9qvVaiaf

— Rohit.Pandey (@rohitPandeyy) January 18, 2018
सुप्रीम कोर्ट ने पद्मावत को चार राज्यों पर बैन हटा दिया है

अब फ़िल्म 24 तारीख को देशभर में एकसाथ रिलीज़ होगी।

कर्णी सेना वालों चलो मुह मीठा करवाओ सबका
😂#Padmavat

— Sabyasachi 🇮🇳 (@IamSabya_) January 18, 2018
People going to watch #Padmavat pic.twitter.com/R1U1hAJDiE

— Faad Dunga BC (@naalaYUCK) January 18, 2018
'Khatron ke Khiladi' ke finale mein contestants ko kisi Rajput ke ghar ke bahar 5 second ke liye Ghoomar dance karna hoga.#Padmavat

— shakil4271 (@shakil4271) January 18, 2018
पहला दोस्त : भाई क्या 3D है एक दम असली वॉर सीन लग रहा है । 😍
दूसरा दोस्त : bsdk ध्यान से देख राजपूत थिएटर जला रहे हैं 😨#Padmavati #Padmavat

— संत विजय सिंह ☠ (@Kya_Ukhaad_loge) January 18, 2018
#Padmavat दिखाने के चक्कर में @bhansaliprod_fc S L Bhansali ख़ुद इतनी बार देख चुके हैं फ़िल्म की शायद अगले दस साल में भी कोई ये फ़िल्म इतनी बार नहीं देख पाएगा। Best wishes @bhansaliprod_fc

— Vikash Tripathi (@VikashTripathiG) January 18, 2018
Akshay Kumar's reaction after SC's green signal to #Padmavat's Nationwide release. #Padman pic.twitter.com/ZxMvzSSa7A

— Webdunia English (@WDEng_Portal) January 18, 2018
Also Read - Padmaavat: Producer knocks the door of Supreme Court to challenge the film ban in four states
This is to notice that the film was first supposed to release on 1st December but after the protest and delay in CBFC certification, the makers postponed the release date for next year. The Ranveer Singh, Deepika Padukone, and Shahid Kapoor starrer film is now all set to release on 25th January 2018.