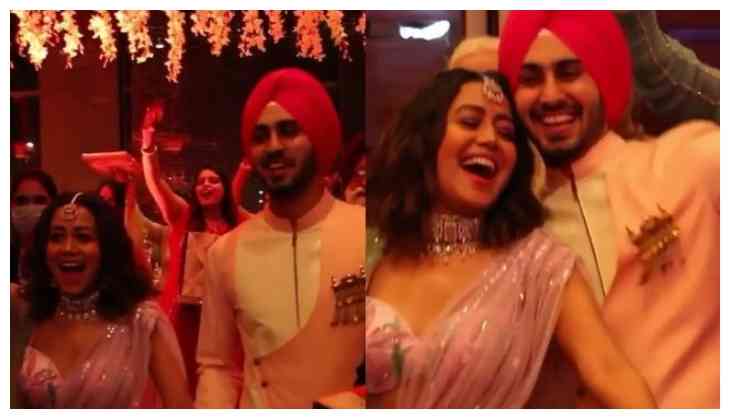 After a lot of buzz about Neha Kakkar and Rohanpreet Singh's wedding, a video of the roka ceremony of the lovebirds has surfaced on the Internet.
The clip of the ceremony was shared by the groom and bride to be on their official Instagram.
Though the duo has neither denied nor confirmed about their wedding rumours, they have been sharing a lot of videos and pictures which showed how they are madly in love with each other.
The couple has surprised their fans by sharing a clip from their roka ceremony.
In the video shared by a Bollywood singer, Neha looks stunning in her embellished lilac draped saree while Rohanpreet wore a peach and white colour kurta. He also added a metal brooch in his kurta and also matched his turban with Neha's pink outfit.
Neha and Rohanpreet can also be seen performing some dance in the video. Their love banter is surely unmissable. Also Read: Neha Kakkar and Rohanpreet Singh share 'Jab We Met' moment in this awdorable pic
The singer captioned the video, "NehuDaVyah video releases tomorrow. Till then here's a small gift for my NeHearts and #NehuPreet lovers. Here's our roka ceremony clip! I love Rohanpreet Singh and family. Thank you Mrs Kakkar and Mr Kakkar... Hehe... I mean Mom-Dad... Thank you for throwing the best event (sic)".

On the other hand, Rohanpreet also shared the same video on his Instagram handle. He captioned it, "My Nehu says: #NehuDaVyah Video releases Tomorrow. Till then here's a small Gift for My NeHearts and #NehuPreet Lovers. Here's Our Roka ceremony clip!! I Love @rohanpreetsingh and Family. Thank you Mrs Kakkar and Mr. Kakkar Hehe.. I mean Mom Dad. Thank youu for throwing the best event (sic)".
Earlier, Rohanpreet also wished her sister-in-law Sonu Kakkar on her birthday.
Sharing the photo of Sonu, Rohan wrote, "Happiest Birthday @sonukakkarofficial Didi!! 🎂🎂🥰😇 You're the Most Beautiful nd Talented sister❤️😇 God Bless you Didi❤️🥰 I wana tell you that You nd Jiju are my inspiration as well 🙊😍 I want Our couple to be like Yours 🥰 Waheguru sukh rakhe! Enjoy Your Day Party Hard"
A few days back, Neha and Rohanpreet had also shared a picture featuring them together and made their relationship official. She wrote, "You're Mine @rohanpreetsingh *NehuPreet."
According to The Times Of India reports, the couple is all set to tie the knot on October 26, followed by a reception, the venue being in Punjab.
Also Read: Neha Kakkar says 'kisi ka dil mat dukhaana yaar' to her fans; here's why