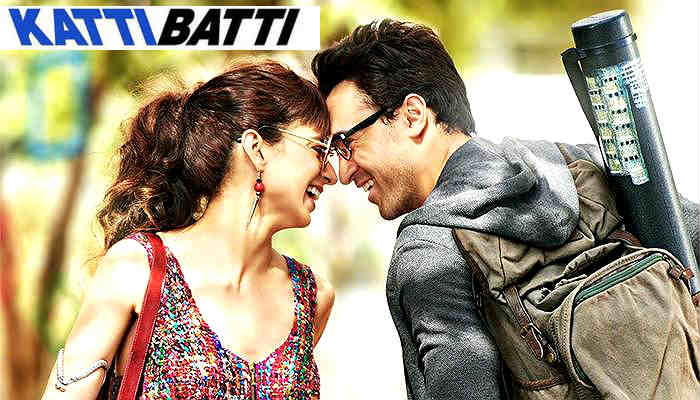 Cast: Kangana Ranaut, Imran Khan

Director: Nikhil Advani

Producer: Siddharth Roy Kapur

Rating: 2 stars
The big question you're left with when you finish watching this film: just what made Aamir Khan cry when he watched Katti Batti?
Unless, of course, he was just thinking of people who would actually pay money to see it.
Nikhil Advani's Katti Batti is not a film but an Imran Khan lovefest. And the incredibly talented Kangana Ranaut? She's a well-kept secret for vast parts of it.
The film starts by establishing that Madhav Kabra (Imran Khan) has supposedly tried to commit suicide after breaking kup with his live-in girlfriend. The attempt includes drinking four bottles of phenyl, mistaking them for beer. (Shut up! Someone is dying here and you think it's funny?)
In Pics: Imran Khan and Kangana Ranaut's 'youth-centric' promotional campaign for Katti Batti
Enter his 'well wishers' - a domineering younger sister and good-for-nothing friend. The story moves ahead and painstakingly informs us that the world is round, as absolutely every second thing in the film reminds our hero of his now-ex girlfriend.
Has she dumped him? Yes, it seems so.
Because a girl like Payal (Kangana), with an uber-stylish wardrobe and an uber-carefree life, and an ambition-less and goalless life will of course have no concept of love, commitment and sticking to just one guy.
Frequent flashbacks appear to establish just two things:
1. A non-linear plot

2. That Imran Khan is master of the I-am-utterly-confused-about-whats-going-on expression.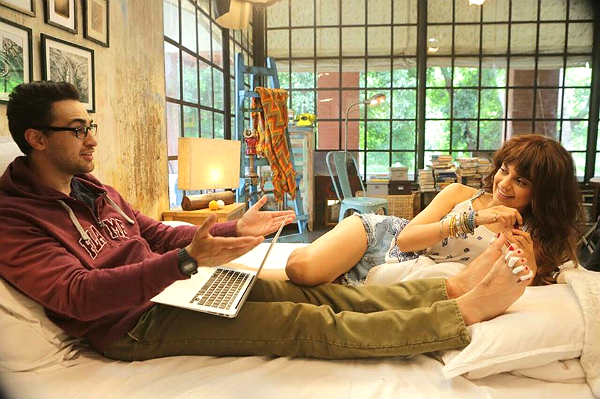 The writer of Katti Batti, Anshul Singhal seems lives in a parallel universe where the only definitions of a 'modern woman' are glamorous clothes and a live-in relationship. Unfortunately, the actress essaying the role is someone whose previous onscreen characters defined what it means to be a bright, contemporary young Indian woman today. And this one is vehemently not it.
Also read: So, why did Salman Khan call Kangana Ranaut?
The first half of Katti Batti is ditzy enough and the only reason you sit through the rest of the film is because by now your need to know why Aamir Khan shed tears during this film has reached uncontrollable levels.
And the climax (spoiler alert, though it's very hard to, well, spoil this film) bears an uncanny resemblance to Advani's previous outings.
Or, let's put it this way: the first half is Salaam Namaste and the second is Kal Ho Naa Ho. (I'd like to mention A Little of Heaven and Sweet November, but why go to Hollywood when we have our own Bollywood films being proudly ripped off?)
Imran Khan and Kangana Ranaut make an unusual pair. They have a charming chemistry but fail to sustain it. Their best scenes are the ones with no dialogues - and this isn't an insult. Blame it on the screenplay, but there are very few lines for Kangana Ranaut to showcase the powerhouse of talent she is.
As for Imran Khan, it's like watching someone trying too hard to grow up. He was almost there in the scene (spoilers again) where he's silently asking Payal to come back to him and ditch her own wedding. He does a decent job in another scene when he almost unwittingly clutches his love's hand when he sees someone else's beloved dying.
Also read: Perfectionist Aamir Khan alters Katti Batti
The most annoying part of the film, however, is the unnecessarily infused comedy. You have a boss who is South Indian and therefore speaks Rama and Lakshmana with overstretched 'a' in the end. And a sexy female colleague with a pointless display of cleavage, every time.
The surprise package, however, is the cinematography. Its beautiful to see how swiftly the camera showcases emotions in particular scenes. The music by Shankar Ehsaan Loy that didn't appeal to me initially, is a good escape from the unrealistic nonsense you see on onscreen.
Final word: Katti Batti is a direct attempt to erase whatever little reputation 'Bollywood love stories' have.