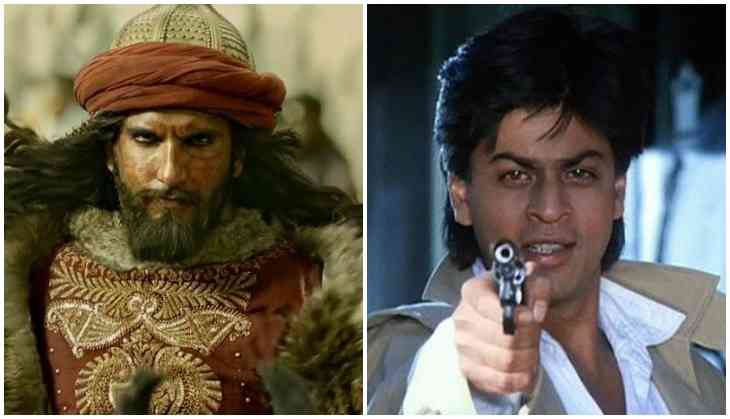 Is Ranveer Singh in Padmavati, the next Shah Rukh Khan of Darr?
Since the trailer of Sanjay Leela Bhansali directorial film Padmaavat got released, it has become a part of discussions. Everyone is praising the first look of the characters and introduction of the actors in their roles in the trailer. Although, all three stars Shahid Kapoor, Deepika Padukone, and Ranveer Singh are playing leading roles but Ranveer is shining in the trailer the most.
Even though he didn't say a single word in the trailer but even then he has managed to grab all the attention. Ranveer Singh is surely an actor who can play any role even it is of a villain. Ranveer is playing Alauddin Khilji in Padmaavat, who was a ruthless king and wanted to marry queen Padmaavat.
Now why we are comparing Ranveer Singh and Shah Rukh Khan is because they both played the villain in the films Darr and Padmaavat respectively. Both films had three leading actors. While in Darr Sunny Deol and Juhi Chawla played leading pair and Shah Rukh played the villain, on the other hand, in Padmaavat, Shahid Kapoor and Deepika Padukone are playing leading roles and Ranveer Singh is playing leading villain.
This is also the second time when people are keen to watch a villain in the film, not hero. Shah Rukh Khan was praised a lot for playing a psycho lover in the Darr, and Ranveer is already being praised for his daredevil looks in Padmaavat trailer. You can already see that Shahid and Deepika had dialogues in the trailer but Ranveer who has not even a single word but just his activities and eyes has already made fans crazy to watch the film Padmaavat in the theatres on 1st December 2017.