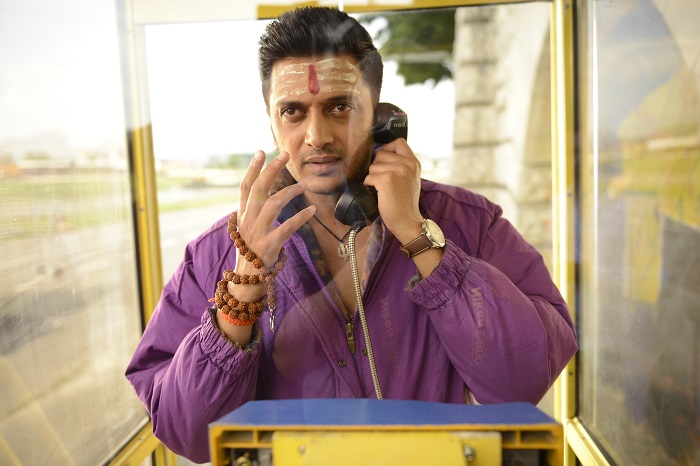 As Bangistan nears its release date of 7 August, Catch Live meets Riteish Deshmukh to talk about the film and more.
Excerpts from the interview:
Q. You've done many comedies. How do you manage to approach all the characters you play differently?
Bangistan is not a physical comedy rather it is a satire. It is mostly poker-faced. The situations are extraordinary in this film, so I had to figure out how I react to them.
Q. How was it to work with a director who once was a film critic?
It didn't matter. Karan Anshuman does not want to make films on issues. He wants to make them on events.
Q. The film takes on religion. Are you afraid of a backlash from political parties?
In isolation, anything can stand out as an issue. And you're talking about Bangistan's promo here. You must understand that a promo is meant to titillate the audience, get them excited about watching the film. But if someone wants to react to anything, they should watch the film in totality first. We have to show something negative because you value a positive only when you know its negative side.
Q. How was it to work with Jacqueline Fernandez after so long?
She has evolved a lot as an actor - I remember working with her in her debut film. She is a fabulous performer and a great dancer.
Q. What do you have to say about Great Grand Masti?
I am really excited about Great Grand Masti. The kind of situation the guys are caught in this time is extraordinary. It will be fun. Masti was a situation comedy, Grand Masti was more of a gag film, but Great Grand Masti is a situational gag comedy.
Q. How excited are you for your next Marathi film, Mauli?
I am very excited that Nishikant Kamat and I are coming back again after Lai Bhaari. We like each and we are friends. We start shooting in January.
Q. How does it feel being part of India's biggest comic franchise, Housefull?
I am really looking forward to Housefull 3. We start shooting in September. Akshay Kumar, Abhishek Bachchan and I are great friends and we all are looking forward to having some good times while shooting.