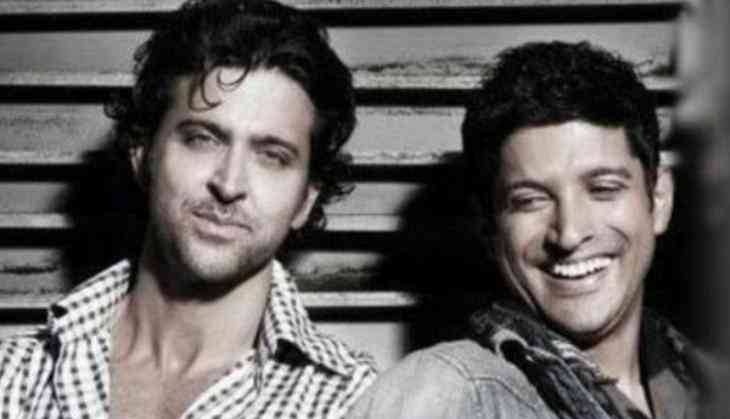 Hrithik Roshan lauds better reviews of Farhan Akhtar's 'Lucknow Central' over 'Simran'
Farhan Akhtar starrer 'Lucknow Central' has released in theatres today and is already getting accolades from critics as well as moviegoers.
This week marks yet another clash in theatres between 'Lucknow Central' locking horns with 'Simran'.
Amid multiple releases this Friday, Lucknow Central's content is being largely lauded by critics.
While congratulations galore for Farhan Akhtar and the 'Lucknow Central' team, it is colleague and friend, Hrithik Roshan who took to Twitter to laud Lucknow Central's strong positive word of mouth.
Congratulating friend Farhan Akhtar on the great reception of his film as compared to other releases this week, Hrithik Roshan tweeted, "Farhan! All the best today. It's looking really good. N great reviews ??#LucknowCentral @FarOutAkhtar".
Farhan! All the best today. It's looking really good . N great reviews 👍#LucknowCentral @FarOutAkhtar

— Hrithik Roshan (@iHrithik) September 15, 2017
With the first shows coming to an end, 'Lucknow Central' is ahead in the race with a unanimous thumbs up from one and all.
'Lucknow Central' marks yet another story inspired by a real life story in cinemas with Farhan Akhtar, Gippy Grewal, Deepak Dobriyal, Rajesh Sharma, Inaamulhaq hatching a musical plan to escape out of prison.
The film is supported with power-packed performances by Ravi Kishan, Ronit Roy and Diana Penty in addition to an appearance by Manoj Tiwari, bringing together some of finest actors of Indian Cinema.
In this clash, it is ' Lucknow Central' that has taken a head-start, with a barrage of positive reviews on its side once again proving that content is the king of all.
-ANI