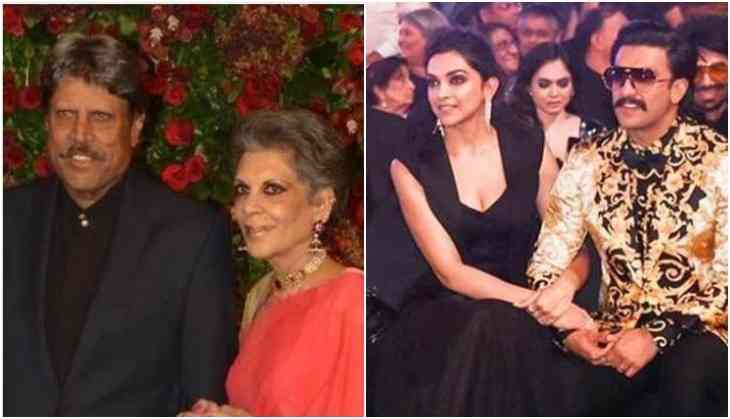 Kapil Romi Ranveer Deepika
Bollywood actor Deepika Padukone has confirmed that she is going to be a part of Ranveer Singh starrer upcoming movie 83. The film will be based on the real incident of Indian team winning the first world cup in 1983 led by Kapil Dev. Director Kabir Khan is making a film on the subject in which Ranveer Singh will be playing the role of Kapil Dev.
Now Ranveer Singh's wife and supremely talented actress Deepika Padukone is also going to be a part of the film. The actress recently confirmed that she will be playing Kapil Dev's wife Romi in the film.
While confirming it to Times Of India, Deepika Padukone said, "I am so glad that Kabir (director Kabir Khan) came to me with it. This happened a couple of months ago, when he was still casting the boys for the film. It's just that I was busy with Chhapaak (her production debut, which wrapped up recently) and we were waiting for the right moment to make the announcement."
However, there were the reports that Deepika won't do 83 just to be seen with Ranveer Singh. Now finally, it has confirmed that Deepika will be seen as Ranveer Singh's wife in the film. This will be Ranveer Singh and Deepika Padukone's first film after their marriage in last year.
While talking about her role of playing Romi, Deepika said, "There isn't a lot of material available on her. I have met her a few times, including our wedding reception, and I have interacted with her socially over the years. I am also referring to whatever material the director's team has sent across to me. My parents have known their family for many years. So, I feel I know her and hope that she is proud and happy with the film. I intend to connect and spend some time with her before I start filming to be able to understand her perspective better."
Also Read - Kartik Aaryan to replace Akshay Kumar in 'Bhool Bhulaiyaa 2'!