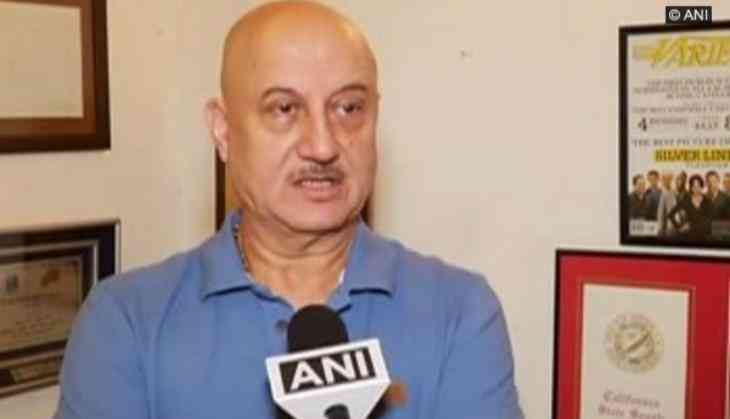 CRPF jawan had a gun while being heckled: Anupam Kher reminds Valley's goons (ANI)
Strongly condemning the video in which a CRPF personnel is being roughed up by a youth while he was returning from a polling booth in Srinagar, veteran actor Anupam Kher feels that a true Indian citizen should stand and react to such videos.
When asked about how he felt about the video, the 62-year-old-actor told ANI, 'I could not see the video after the first three seconds because I was getting really angry and upset. But then I realized as a true Indian it is my duty to see it, react to it and get out of my comfort zone and speak about it. It's unforgivable, what has happened. I always believe that the rules we apply in the home should be applied in the country too. Even if your neighbor comes and hit your brother or sister, your family will surely take action and react to it, so why can't we do it when such a thing has happened to our CRPF jawans. It is our duty to react to it. Can you imagine what his family must be feeling? He was carrying a gun, it could have been the easiest thing for him to react to it. They were hindering in his peace zone, it is an act of cowardliness. I salute the soldiers who did not do that.'
'Not everyone feels the same about the army, but there some people who wanted the video to get viral and to get a reaction from us was their sole purpose,' he added.
The video features a CRPF personnel using immense restraint even when he is attacked by the youth. Kher further shared that it is everyone's duty to react to such an incident.
'It is everyone's duty to condemn this act. Anyone who takes this nation as his family and if the person cannot accept such behavior with their actual families, it is their duty to not just sit but condemn or react to such issue.'
When asked about the politicians who are making fun of such things, he said, 'Not just politicians, but all the pseudo-intellectuals who react to anything and go out to their twitter handles complaining about how this person was treated and how that person was treated but look how they are tight lipped about this incident. Politicians will always play their games and I condemn them. I know Politics is a dirty game but you do not have to give real meaning to it.'
The actor also applauded cricketers Virender Sehwag, Gautam Gambhir and fellow actor Randeep Hooda for speaking their minds about the matter.
-ANI