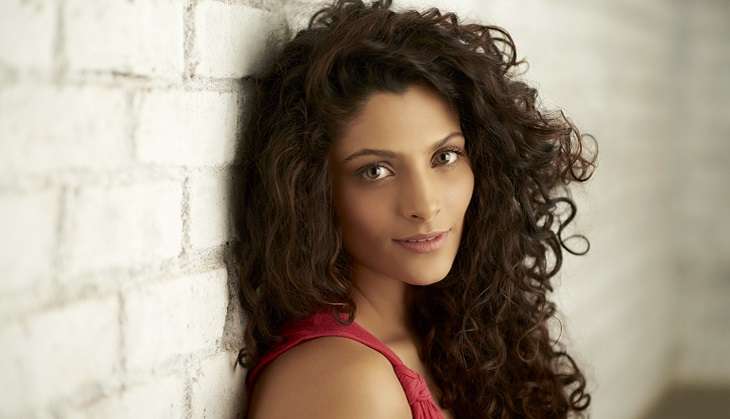 There are very few actors in Bollywood who speak their heart out and debutant Saiyami Kher is one of them; she speaks straight from her heart.
The actress, who will make her debut in the Hindi film industry with Mirzya, believes that given the string of content-driven cinema that has released recently, this is the best time to be a part of the industry.
While Mirzya isn't a conventional commercial Bollywood film, the actress admits that sharing the opening credits with legends like Gulzaar and Rakeysh Om Prakash Mehra is a dream come true.
"Mirzya is a huge film to be a part of. For me, just to be associated to with Gulzaar Saab and Rakeysh Sir is a dream. While I do agree this isn't a conventional commercial Bollywood film, Rakeysh sir is never known to follow one particular style of filmmaking. He likes to be away from the trends and often loves to make path-breaking cinema."
The trailer of Mirzya has evoked a lot curiosity about its storyline. Given the two different set-ups, one might assume the film is a reincarnation love story. However, Saiyami has denied all the speculations and revealed that the film is merely an adaption of Mirza and Sahiban's epic love saga.
Also Read: Watch Harshvardhan Kapoor and Saiyami Kher frolic about in Teen Gawah from Mirzya
"Our's is the story of a contemporary 2016 couple. This is inspired by Mirza Sahiban but it isn't about them. It is essentially is a love story that has been weaved together by music. It isn't a reincarnation story but it is based on the legend of Mirza Sahiban. We are trying to show how love echoes in this generation. The entire concept is that love remains the same despite the changing times."
With the industry making more content-driven films revolving around female characters likePink, Neerja, Highway and Mardaani to name a few, Saiyami believes that this is indeed a great time to be here.
"I think it a very good time to be in the industry because the style of film-making has evolved a lot in the last four years. I think the scripts written for women have evolved a lot in the last 4 to 5 years but at the same time there are still not many. Sonam did a film like Neerja which was accepted commercially and same can be said for Alia Bhatt with Highway. These films are written keeping the younger lot of actors in mind and I hope many more are made. I would love to do something on the lines of Alia Bhatt in Highway."
Also Read: Mirzya actress Saiyami Kher is blown away by Amitabh Bachchan's Pink
The actress is a self-confessed Amitabh Bachchan fan and has grown up watching classics likeAnand, Abhimaan, and Chupke Chupke to name a few. In terms of preferences, the actress is very unlike her co-star Harshvardhan Kapoor who prefers to watch international cinema.
"Harsh is completely an international cinema-loving guy but for me, I am a big Bollywood person. I watch international cinema as well though I watch the more normal ones. Harsh, on the other hand, loves to watch the arty kind of cinema which you might have never heard about. People really laugh when I tell them that I love listening to songs of Kishore Kumar, Mohammad Rafi, Lata Mangeshkar even now. The films I love watching are old Hindi films likeAnand, Abhimaan, Chupke Chupke. Anand is one of my all-time favourite."
Saiyami Kher Interview
Being an admirer of old Hindi films, Kher believes films back then had a lot of purity primarily owing to their meaningful lyrics.
"I love watching new films as well because the stories are so interesting. But there is something about the golden era. For me it is the music which separates two generations of Indian cinema. We had music like 'Kaahin Door' from Anand, which is an absolute classic. I am a sucker for good lyrics and I believe our lyrics are currently on the downfall. I love the new stuff we are doing, but I believe the older cinema had a lot more honesty and purity."
According to her observation, the changing lifestyle of individuals reflects a lot on the film content and that is one of the major reasons for the paradigm shift in cinema.
Also Read: Mirzya's Harshvardhan Kapoor has a thought-provoking observation about Shah Rukh Khan, Salman Khan & Aamir Khan
"I think it is because of the lives they led. I have had the fortune of spending a lot of time with Shabana Azmi's mother Shaukat Kaifi. She often used to tell me 'Beta aapki generation mohabbat kyun nai karti? Aap bus yeh tick marks dekhte ho'. I think their life was very pure and that pureness reflected on the big screen. Films made these days are technically way more advanced than the older films but I think classics will always remain classics."
The actress, who played state-level badminton and cricket, had to give up sports because of an injury. However, she is eager to be a part of a sport-based biopic on an Indian athlete.
"I come from a sports background, so that has always been my first love. Since so many biopics are made today, I would love to be a part of a biopic on some athlete. I just feel that I would be able to give it a lot more than other actresses around because I have played badminton and cricket for Maharashtra. Over and above that, I am a marathon runner. Sport comes to me naturally, so I would be able to do complete justice to the character."
Mirzya releases on 7 October 2016.
-- Edited by Aishwarya Yerra