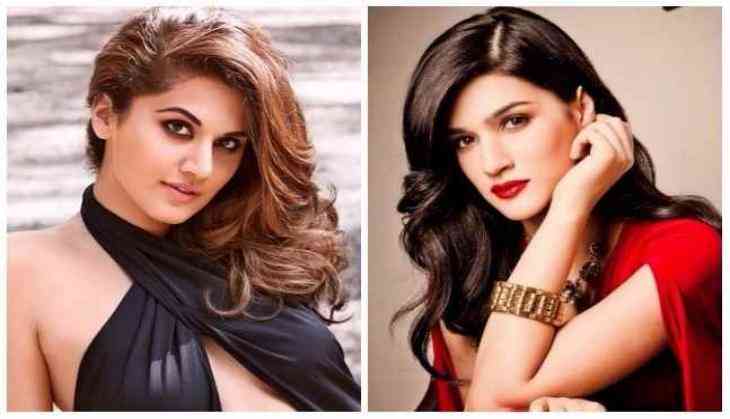 Taapsee Pannu-Kriti Sanon
Movie Badla and Luka Chuppi are still roaring at the box office, Taapsee Pannu who was seen in the suspense thriller film Badla along with Amitabh Bachchan is being appreciated a lot as the storyline is a very different and epic one. Taapsee Pannu is known for such movie and is one of the strongest actors of Bollywood, her movie run despite her being the only lead. But still, there are people who see Bollywood as male dominating ad even quote in favour of it.
Recently, a publication website tweeted on their twitter that Amitabh Bachchan starrer Badla and Karti Aryan starrer Luka Chuppi is still showing power and collecting huge amount on box-office. To this Taapsee got furious and gave the right answer to them " I think even the female leads of both the movie did work hard... I think you didn't get time to credit them". Even Kriti Sanon backed her on this.
मेहनत शायद इन फ़िल्मों की लड़कियों ने भी उतनी ही करी है .... लगता है समय नहीं मिला होगा आपको लिखने का :) https://t.co/ysF49CDZPQ

— taapsee pannu (@taapsee) March 16, 2019
👏🏻👌🏻😂 @taapsee #ifeelyougirl ;) https://t.co/74Ny88UrRa

— Kriti Sanon (@kritisanon) March 16, 2019
Soon publication apologised to both the ladies and said "we respect females contribution, even ion our organisation there are female workers and they too work hard and will take your feedback in consideration"
Dear @taapsee We apologise if this made you feel bad in anyways. In the office where majority staff is female we know how hard working women are and we will take your feedback into consideration the very minute.

P.S. you were fabulous in #Badla. 🙏🤗

— PeepingMoon (@PeepingMoon) March 16, 2019
More power to you girl.
You said it👏👏
Dont know why BW has only male dominance whereas many hardworking actress give 1000% for movie and end up getting 0 credit for the success

You and kriti r equally deserving to get credit for the success if ur films❤

— हिना का दीवानाᴴⁱⁿᵃ ˢᵗᵃⁿ ✨ (@VickyKaushal_) March 16, 2019
Go tell them @taapsee! Movies don't run just my male protagonists. #Badla #actors

— sukaina majeed (@sukaina1422) March 16, 2019
Taapsee was last seen in movie Badla along with Amitabh Bachchan, soon she will start working with Anurag Kashyap for the supernatural thriller.