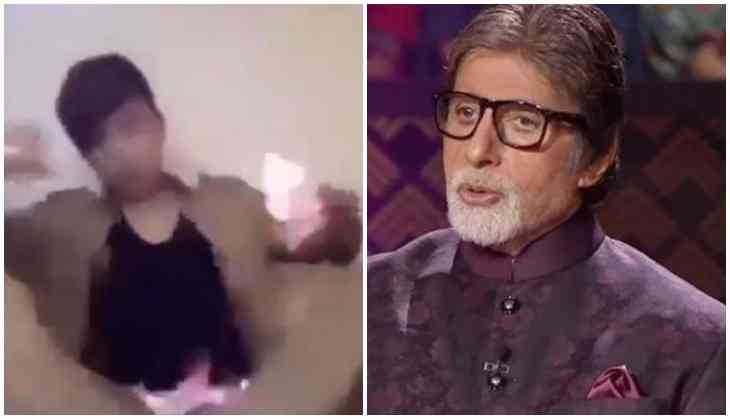 Amitabh Bachchan gets worried for boy
As it's the lockdown period people have nothing to do really so they are spending their most of the time surfing videos, well not just us even celebs out there are keeping them busy and entertained by spending their time on social media. With this, they are also keeping their fans engaged and they keep dropping on their Instagram or Twitter handle as to what they are up to.
As we all know among all the celebs Karan Johar is having his hearty time with his munchkins Yash and Roohi and well, he also keeps posting their banter with him on Instagram, however, fans are wondering what Amitabh Bachchan is up to amid the lockdown. So here we are, the Brahmastra actor is having leisurely time through hilarious videos.
Recently, the actor took to his Twitter handle to give you a sneak peek into his lockdown period. He posted a tragic video wherein a young boy id trying to sip on some liquid that has fire all over its top. He starts with lighting his cigarette from the fire, however, when he tries to drink the fiery liquid it accidentally spills on his private part.
Also Read: Lockdown on Domestic Violence: Anushka Sharma, Virat Kohli, Karan Johar urge citizens to report abuse
What next, he gets all panic and tries to extinguish the flames by hitting his manhood and while all this is happening the video ends abruptly leaving people wondering as to what happened to the poor guy? Is he okay or not? Etc. Well, even Gulabo Sitabo actor has same thoughts and while posting the video he uses this question as his caption which read, "Hey bhagwan .. par aage kya hua .. aag bujhi ki nahin"
Check out the video:
Hey bhagwan .. par aage kya hua .. aag bujhi ki nahin https://t.co/LQkXk9BHyd

— Amitabh Bachchan (@SrBachchan) April 19, 2020
Meanwhile, a few days ago the actor was hitting the headlines after he posted a pic to which his fans on Baisakhi on Instagram. As his fans filled the comment section with all excited and enthusiastic comments, however, among all was a user who in a very disrespectful manner asked about Aishwarya Rai's whereabout, he wrote, "Aishwarya kahan he budhe" To this evergreen actor gave a savage reply and shut his mouth. Here read the full story.
Also Read: Brahmastra: Revealed! Shah Rukh Khan to play this role in Amitabh Bachchan, Ranbir Kapoor, Alia Bhatt starrer