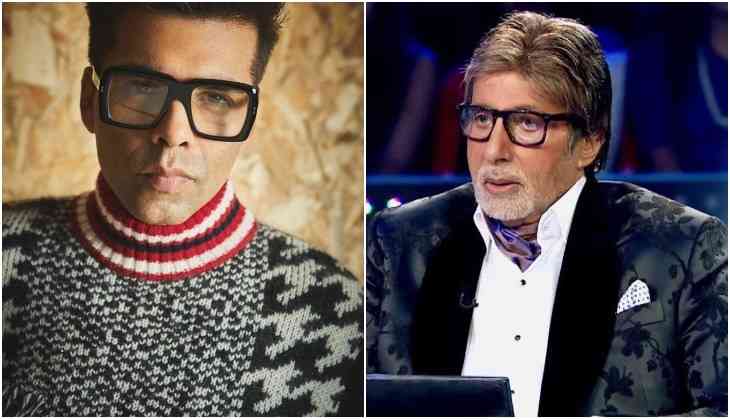 Karan Johar Amitabh Bachchan
Amitabh Bachchan hosted India's biggest game show Kaun Banega Crorepati is no doubt one of the most successful shows of Indian television. It is the only show that relates and connects with each audience of India. Even the celebrities like Karan Johar watches this show and recently he gave a proof of it.
Actually, on Tuesday, a 19-year-old commercial pilot from UP was sitting on the hot seat and he was supposed to give the answer of Rs 1 crore's question. So the host Amitabh Bachchan asked a 1 crore question in front of him and it had a direct link with Karan Johar's next directorial Takht.
The question was: Whose Persian translation of several Upanishads is known as the 'Sirr-e-Akbar'?
The options were: (a) Abul Fazal (b) Shah Waliullah Dehlvi (c) Dara Shikoh and (d) Ahmad al-Sirhindi.
I knew the 1 crore answer!!!!!! #DARASHIKOH and so would you have @RanveerOfficial ❤️❤️❤️ #TAKHT pic.twitter.com/VJeajwMYO3

— Karan Johar (@karanjohar) September 10, 2019
Karan Johar who is going to make a period film Takht shared the screenshot on Twitter and wrote, "I knew the 1 crore answer!!!!!! #DARASHIKOH and so would you have @RanveerOfficial #TAKHT". He also tagged the leading actor of his next film Takht, Ranveer Singh.
However, the contestant Himanshu quit the show and took 50 lakh prize money at home. Although, when he was asked to guess the question he chose the right option but the luck was not in his favour.
Talking Takht, the film stars Ranveer Singh, Kareena Kapoor Khan, Alia Bhatt, Vicky Kaushal, Janhvi Kapoor, Bhumi Pednekar, and Anil Kapoor in the leading roles. This will be Karan Johar's first period-drama that he will direct.
Also Read - Ranbir Kapoor to collaborate with Kabir Singh director Sandeep Reddy Vanga for a crime-drama!