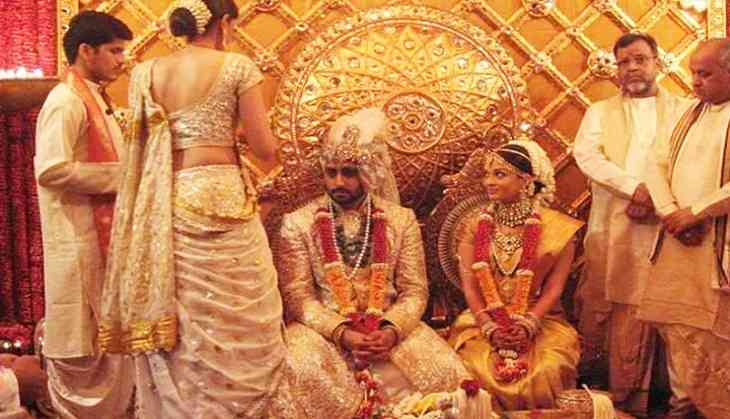 Aishwarya Rai and Abhishek Bachchan are one of the most adorable and lovable couples in the film industry. The duo got married in a star-studded ceremony in 2007. However, their bond becomes more stronger with each passing year. Recently, Aishwarya shared her experience when she was addressed as Mrs Bachchan for the first time after marriage.
In an interview following her wedding, Aishwarya revealed the time when she finally realized that she is married.
"It was on the flight to our honeymoon in Bora Bora," she had said in the throwback interview.
Aishwarya reportedly said that a stewardess welcomed her on-board by saying "Welcome, Mrs Bachchan."
She further said that Abhishek and she just looked at each other after the stewardess addressed her as Mrs Bachchan and then they burst into laughter. "And it hit me, I'm married! I'm Mrs Bachchan!" Aishwarya said.
In another throwback interview, Abhishek Bachchan also praised her wife and said that he had heard about Aishwarya before he became an actor.
"She comes with this huge reputation of being some divaesque figure. Everyone imagines she floats on a cloud or something!" Abhishek told Hindustan Times earlier.
The Guru actor further added that "anyone who knows her knows her to be genuine, down to earth, approachable and tactile. And that disarms you. You think 'Wait a second, she's pretty cool'. And she really is."
Aishwarya and Abhishek have been married for over a decade and has a daughter, Aaradhya, together.
On the work front, Aishwarya Rai Bachchan will next be seen in Mani Ratnam's film while Abhishek is busy with his upcoming flick, Bob Biswas.
Also Read: Abhishek Bachchan gives epic reply to troller who tried to shame him for having more followers than this actress