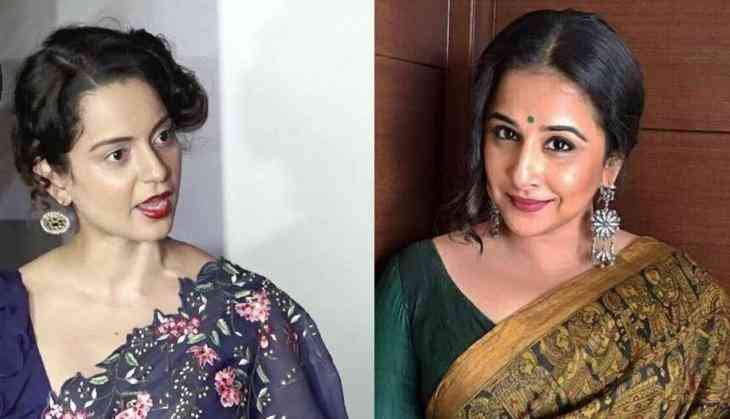 Kangana Ranaut and Vidhya Balan
Queen of Bollywood Kangana Ranaut is being furious now days and attacking actors like Aamir Khan, Alia Bhatt for not getting support from industry people that she deserves. However, now after veteran actor Anupam Kher and Tanushree Dutta, Vidhya Balan has backed Kangana and appreciated her movie Manikarnika. Kahaani actress also applauded Kangana Ranaut's acting skills and said that this is the best action sequence movie so far she has seen.
Recently, Vidhya Balan in an interview praised Kangana Ranauts starrer Manikarnika and said "I have seen many movie sequences of films for a long time, but Manikarnika The Queen of Jhansi is the best among them." Vidya said, "I have seen this movie recently in the theater. I was surprised to see the hardwork done in the film. I want to congratulate the entire team for this."
Kangana Ranauts who aced the role of Rani Lakshmi Bai in the movie Manikarnika: The Queen of Jhansi, but since her movies trailer released she is continuously lashing on the industry for not supporting her when she needed them, in an interview she said, I dont even expect support from anyone, rather, let them promote themselves that is enough for me, Kangana also added, I take out time from my busy schedule to attendend the screening of bollywood celebrities like Aamir Khan, Alia Bhatt among others, but when my movie releases everyone goes silent.