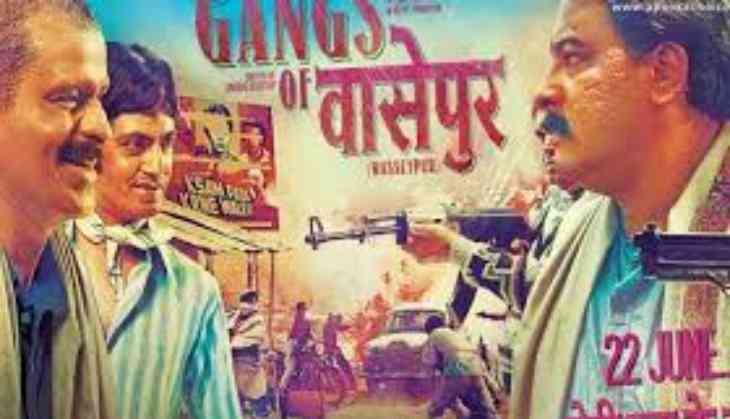 5 years of Gangs of Wasseypur: A film with full of hit dialogues
Anurag Kashyap's film Gangs of Wasseypur which made a storm in the theatres five years back, now the film is a classic cinema of Indian film industry. Exactly five years back today the film was released in the cinemas. Even the dialogues of the film had already became hit before the release.
From Patna to Mumbai, everyone was enjoying the film, its superhit dialogues made everyone crazy. Manoj Bajpayee played leading role in the film and this film also became the identity of Nawazuddin Siddiqui. The critics and the audience both appreciated Nawazuddin's performance in the film.
Besides Manoj Bajpayee and Nawazuddin Siddiqui, Huma Qureshi and Richa Chadha also played the important roles.
Here are some famous dialogues of the film:-
1. Us Harami ko Mitana Hai Hume.. Goli Nahi Marenge.. Kah Ke Lenge Uski
2. Mein Jab Sochta Hu... To Us Harami to Takleef Deta Hu
3. Garibi to deti hai jo rishte Khaaq hote hai... Aur Paraye apne hote hai jab pese paas hote
4. Sardaar Khan naam hai hamara... bata dijiyega usko
5. Har Yaar wafadaar nahi hota.. Har fool chamakdaar nahi hota.. Na jaane Baal me kitne fool khile hai.. har fool khubsurat nahi hota
6. Bade log apna naam bhool jate hai.. lekin apni zameen apna samaan nahi..
7. Ensaan do hi nasal ke hote hai.. ek to harami.. aur dusre bewakoof
8. Itni goli marte ki apka driver bhi khaaqi khoka bechkar Raees ban jata
9. Hum Palpendituar hai... hamare liye na esa hi hota..
10. Naa Ho Payega.. Beta Tumse naa ho payega
11. Aee Aap Bich me nhi Bolega
12. Baap Ka, Bhai Ka, Dada Ka.. Sabka Badla lega re tera Faisal