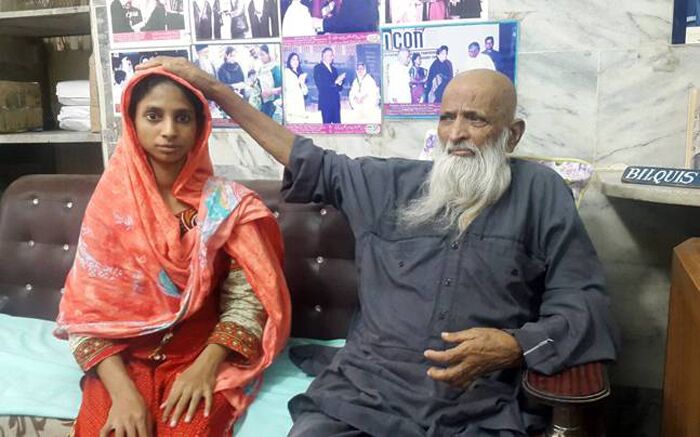 External Foreign Affairs Minister, Sushma Swaraj has asked the Indian High Commissioner to Pakistan, TCA Raghavan to meet the girl who is reportedly stranded in Pakistan for the last 15 years.
In what looks like an excerpt taken from Bollywood film Bajrangi Bhaijaan, an Indian girl named Geeta has been stuck in Pakistan for 15 years as all efforts to locate her family in India have failed. As in the film, the girl is speech and hearing impaired.
Geeta, who lives at Edhi Foundation in Karachi, doesn't remember much about her family, except that she had seven brothers and four sisters. She also fairly remembers no. 193, that the authorities believe has something to do with her house number. The girl also says that her family resides in Jharkhand.
After the girl, now called Geeta, was found, she was taken to Lahore and then to a Karachi shelter where Bilquis Edhi, a philanthropist known as 'The Mother of Pakistan', became quite attached to the girl. The shelter home's staff have created a separate praying room for her, adorned with colourful posters of Hindu deities. "She is a devout Hindu and has even put up colourful posters of Hindu deities, and an earthen lamp on the table," Human rights activist and ex-minister Ansar Burney told PTI.
Now, with the success of actor Salman Khan-starrer Bajrangi Bhaijaan, the social welfare activists are hoping for a great push in the case. Talking about how the authorities got to know about her Indian association, Express Tribune quoted Faisal Edhi (Official, Edhi Foundation) saying "The only communication she has managed with the Edhi staff is recognising the Indian map on a mobile phone and breaking down into tears."
"Sobbing silently, she frantically points first at the Indian state of Jharkhand and then at Telangana, trying hard to tell something of her past that may be a clue for them," he further explained.
The foundation activists persuaded Geeta to begin a new life in Pakistan with a Hindu boy. But she refused and made it clear she will only get married once she returns home.
Here follows the conversation happened on Twitter between Sushma Swaraj and Ansar Burney:
I have asked Indian High Commissioner to Pakistan Dr TCA Raghavan to go to Karachi with Mrs Raghavan and meet this girl. @AnsarBurney

— Sushma Swaraj (@SushmaSwaraj) August 3, 2015
- with inputs from PTI