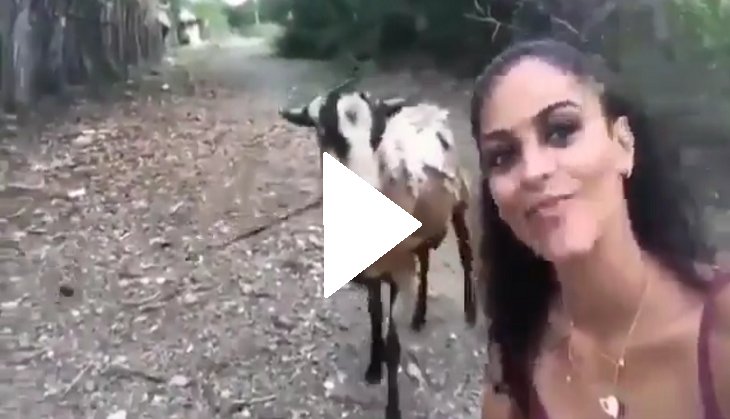 Screenshot of video showing woman taking selfie with goat (Screengrab: Twitter)
A video of a woman taking a selfie with a goat has gone viral on social media. However, things didn't go down well with her but the clip has brought a laughter dose for netizens.
The funny clip was shared by a Twitter user named The Darwin Awards on September 1.
In the 11-second short video, the woman can be seen recording from her mobile phone's front camera with a goat in the background. Initially, it appears that the goat also wants to join her to take a selfie with the woman. Hence, it comes towards the woman.
Also Read: Woman screams after seeing huge snake outside her house; horrifying video goes viral
As the goat is tied up and its struggle to approach the woman. In her second attempt, the goat comes so near to the woman, it seems that the goat is going to attack her.
Even the woman also heard saying, "It's trying to head bump me." In a few seconds, the goat hits the woman with its horn at the woman's head.
See video:
September 1, 2021

Since the video being shared online, it has garnered 435k views and 1,612 likes on the microblogging site.
Netizens go ROFL after watching the hilarious selfie video. A user wrote, "Patt se ek shot"
Another wrote, "To much fun". One of the users commented, "That's what you get for teasing"
Also Read: Hyena attacks 70-year-old man; horrifying video goes viral